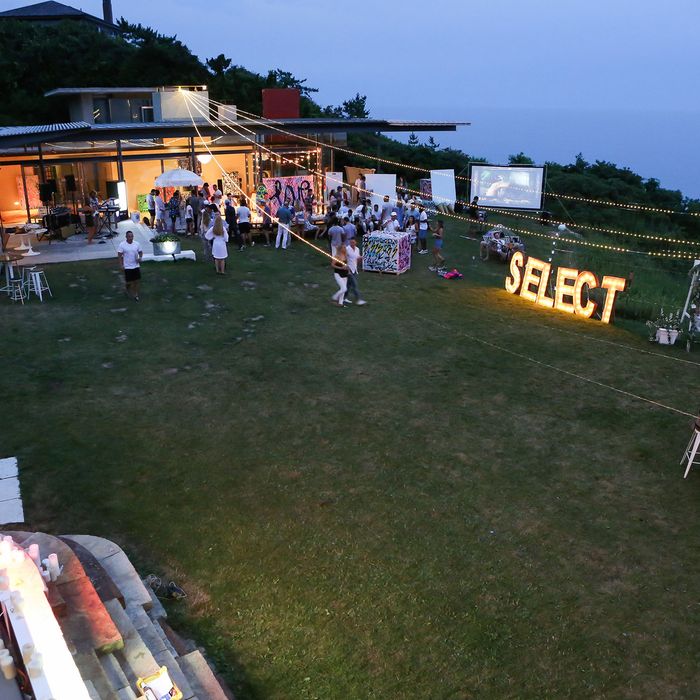 The courtyard outside the rented mansion on Millionaire's Row.
Photo: Sam Deitch/BFA.com
Two weeks ago, I got an email from Tinder inviting me to a swanky party in Montauk to promote their new VIP feature, Tinder Select, an invite-only feature on the dating app available to selected members (sort of like Tinder's own version of Raya or the League). I'd never been to the Hamptons and was curious about what kind of a party the most popular dating app in the country would throw, so I accepted my press pass and booked a ticket. According to "Page Six," the company has since been banned from throwing any more parties in the Hamptons, due to noise complaints from angry neighbors and improper permits.
When I arrived at the 5,000-square-foot mansion on Millionaire's Row that Tinder had rented, I expected to walk into a typical app-promotion party — heavily branded, PRs mulling everywhere — but what I found was hardly the stuff of a major tech event. Inside the courtyard, some 40 lithe, fashionable guests sipped rosé from plastic cups and posed for hired photographers by the beach. Most of the guests were artists, models, musicians, promoters, and club owners. This was not the blow-out I expected from Tinder's fratty founders. In fact, aside from two marquees that read "SELECT" and "YOU'VE BEEN SELECTED" there was no indication that the party was corporate-sponsored at all.
Select (which according to reports looks similar to the app only with a blue S hovering at the top) started appearing on user profiles ten months ago, but the company has yet to officially acknowledge its existence. It declined to comment when TechCrunch first discovered it, and hasn't publicly taken credit for the parties it's thrown to onboard members — despite reportedly dropping $135,000 to rent the very Montauk mansion I visited for the month of July. Even at the event, none of the Tinder employees wanted to speak about Select directly, despite the fact that they invited me to report on it. If this party intended to attract the kinds of people who are too cool for dating apps, it had succeeded — perhaps too well. Tinder's soirée was filled with socialites who'd never be caught right-swiping through dating-app plebes, but it seemed their interest in the app was mostly in it as a Hamptons party host.
Over the course of the evening, none of the attendees I spoke to were on the app, or even wanted to be. "I'm just more of an organic individual," a 31-year-old startup adviser told me. "I'm not specifically here to date. But at this party … the vibes here are good. There's a scene here that's loving, everyone's loving and caring and the vibes are great, you know?" I nodded. "Everyone's laid-back," he said, when a man in a white sweater ran over and yelled, "Somebody hit my car!"
One of the party's guests, Travis Bass, the party organizer the New York Times dubbed a "club land impresario," was outside lamenting the death of downtown nightlife to a 20-ish woman with extremely long eyelashes. "Ugh, yes," she says, "Manhattan's become one big Murray Hill." I asked them what they thought of Select. They scoffed — neither of them were app users. "Then why are you here?" I asked. "Listen, when people throw a party, just so you know," says Travis Bass, "even if it's an Absolut Vodka party and you drink tequila, you still go to the party."
"Besides," Bass added, "If we're not on the app and we come to the party, isn't that better? By the end of the party, we might be on Tinder."
"Uh …" said the girl with long eyelashes, "that's pushing it. We'll see."
As the sun started to set, a man who introduced himself as "Ryan" approached as I spoke to one of Tinder's publicists. "I have a question," he said. "I walked into this place and I'm like, 'What's it for?' I was invited, but I got here and saw the sign, 'You've Been Selected.' And I'm like, 'Cool party, but who's throwing it? Where do I sign up?'" Ryan didn't quite blend in with the fashionable crowd — a little too young, and little too short, and he had a heavy Long Island accent.
The PR woman smiled at him blankly. Ryan was the only person who expressed any interest in the product, but anyone who actually wants to be on Tinder Select isn't the type of person the app would have as a member.
As night fell, string lights illuminated the courtyard. Scenes from the movie Grease played on a projector screen. By the ocean, I spotted an attractive pair getting cozy in the moonlight. "They've been together all weekend," a woman next to me said. "Cute couple alert?" At the Tinder Select party, there's at least one mutual match. But will they say they met through Tinder? I doubt it.