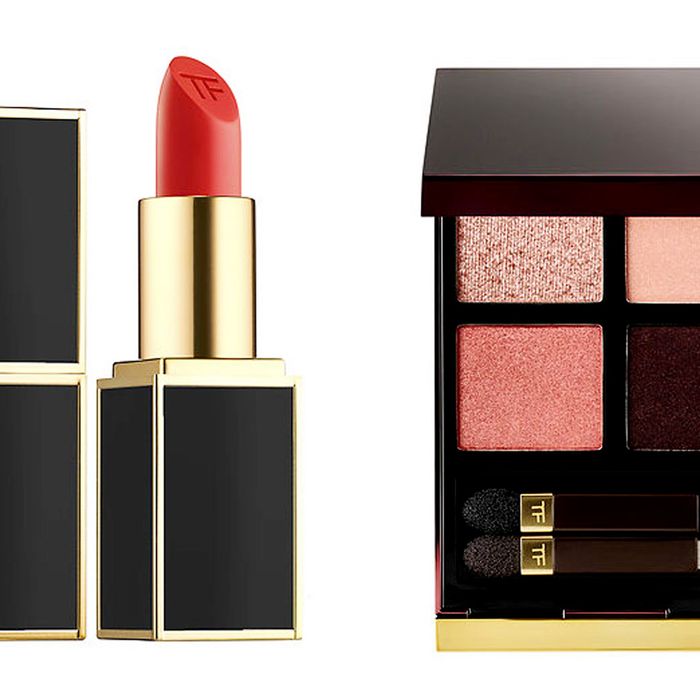 Suddenly, reaching VIB Rouge status is easier than ever. For the first time, Sephora will carry an expanded collection of Tom Ford beauty products, including lip products, makeup, eye-shadow palettes, and fragrances.
A longtime favorite of virtually every makeup artist on earth, the brand is regularly touted by beauty stars like Hung Vanngo and Beau Nelson. In my experience, makeup artists always have several Tom Ford Beauty products in their kits, but they reserve them for the clients they really, really like — because you don't use the $50 lipsticks on someone you feel only meh about.
If you're new to the brand, here's a guide for what to buy, including the best-selling shades of their legendary lipstick and the eye-shadow palette loved by Mindy Kaling.
Tom Ford's matte lipsticks have an incredible weightless texture that goes on completely matte and super-pigmented. Bruised Plum (not sold at Sephora), Black Dahlia, and Velvet Cherry are among the most popular shades.
My new favorite lip stain remains my permanent favorite lip stain. Every time I wear this, people ask me what it is because it gives me a shiny, nonsticky, pigmented version of cherry-Popsicle lips. The shades even look like Popsicle colors. I like this product so much that I'm very worried they're going to discontinue it.
"Fuck you, Tom Ford, this stays on all day!" is the reluctant reaction that most people have when they use a Tom Ford eye-shadow quad. There are no weird shades — every single color is sultrily wearable. The browns look great on the eye, and the palettes are nicely constructed so there's never a "runt" color. The Cocoa Mirage palette is a particular favorite of Mindy Kaling.
If you want your eyelids to gleam like a shiny beetle, this is the product you reach for. The bottom is a creamy eye shadow that glows like it's molten, and the top offers complementary shimmer that you can add for texture. It's crease-resistant, it doesn't smudge, and the texture is so yummy and smooth you won't even want to use a brush.
If you buy something through our links, New York may earn an affiliate commission.