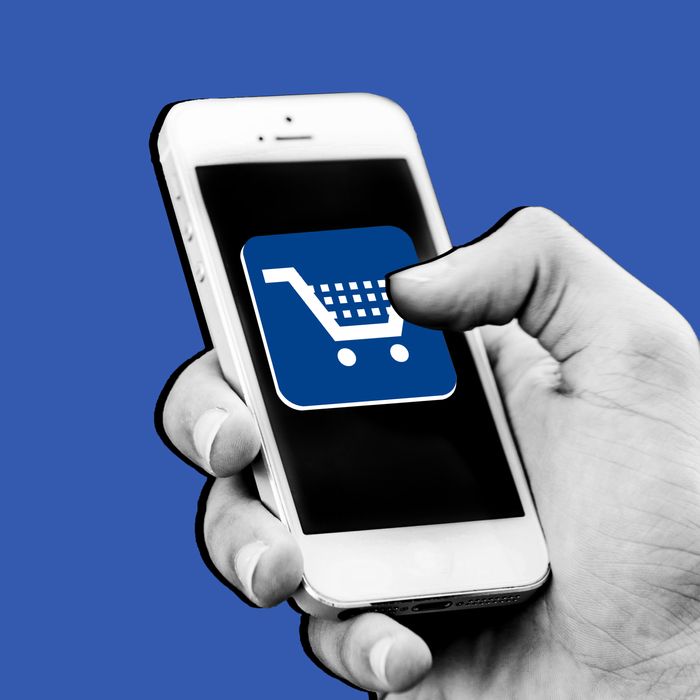 Photo-Illustration: Science of Us; Photo: Mohamed Elkhamisy/Getty Images/EyeEm
Psychology has plenty of advice for how to be a better shopper: Don't rely on retail therapy to lift your mood. Think of spending like a diet, and plan when you're going to cheat. Buy experiences over stuff — but only sometimes, because stuff can make you happy, too.
Here's one more nugget of wisdom to add to the list: Not all methods of online shopping are created equal. According to a new study in the September issue of the Journal of Retailing and Consumer Services, the device we use may affect our ability to prioritize needs over more frivolous wants — and if you want to avoid overspending or shopping regret, it may be wise to limit your virtual browsing to your computer and stay away from the apps.
In the study, researchers from the University of British Columbia surveyed 99 people and found that they behaved more "rationally" when shopping at a desktop computer compared to a touchscreen device (in this case, an iPod Touch). In one experiment, for instance, participants using the touchscreen indicated that they were more likely to make a "hedonic" purchase, like a restaurant gift card, than they were to buy a more useful item like a grocery store gift card; for desktop users, the opposite was true. In another experiment, the study subjects took a test to measure their thinking style on a scale from experiential (a more freewheeling, impulsive thought process) to rational (careful, analytical). In general, those using the touchscreen were higher on the former way of thinking, and those on the desktop on the latter.
Part of the discrepancy, the researchers note, likely stems from the fact that touchscreens are just more fun to use: "When a consumer uses a touchscreen device, the novelty and fun generated by finger movements create experiential and affective feelings, in alignment with the playfulness and emotional nature of hedonic products," they wrote.
"When participants are on their touchscreen device they lean towards a way of thinking where pleasurable products — things we don't usually need — seem more interesting, and so they are more likely to make the purchase," explains lead study author Ying Zhu, a marketing professor at UBC. "Whereas on a desktop they think in a more rational way — it might be because they associate their desktop device with logic and work."
This isn't the first study to support the idea that touch can influence consumer behavior. Rather, it "adds to years of research that shows us that when people physically touch a product in a store, they are much more likely to purchase that product," says Natasha Sharma, a Toronto-based psychotherapist and doctoral candidate in psychology at the University of Toronto. "This is because touch releases emotion, and gives us a sense of connection to an item."
Sharma also suggests that for those of us who tend to be more impulsive shoppers already, choosing to make all purchases in person may be the best option of all.
"In a store, we have to make an effort to find items, carry them to a checkout counter, pull out our wallet, and pay, and all of those steps give our brain time to be less emotionally driven and impulsive," she says. "With the element of touch playing a role now, I would recommend that people more at risk may want to remove shopping apps, for instance, or just stick with cash and debit purchases in brick-and-mortar stores."