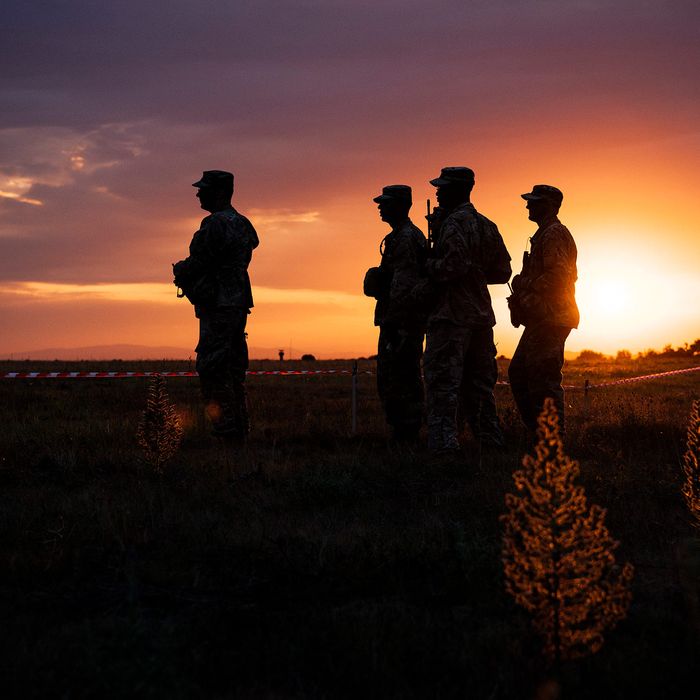 Transgender members of the U.S. military are suing Trump.
Photo: DIMITAR DILKOFF/AFP/Getty Images
On Wednesday, two LGBTQ legal organizations filed a lawsuit on behalf of five transgender members of the Air Force, the Coast Guard, and the Army. GLBTQ Legal Advocates & Defenders (GLAD) and the National Center for Lesbian Rights (NCLR) are suing President Trump, as well as several other officials, over his proposed ban on transgender soldiers in the U.S. military.
"The President's announcement, which upon information and belief was made without consulting the Joint Chiefs of Staff, upset the reasonable expectations of Plaintiffs and thousands of other transgender servicemembers and the men and women with whom they serve and fight," the lawsuit reads. It adds that all five plaintiffs have "built their lives around their military service."
It goes on, "Execution of the President's directive will result in an end to service by openly transgender service members and has already resulted in immediate, concrete injury to Plaintiffs by unsettling and destabilizing plaintiffs' reasonable expectation of continued service."
The suit asks the U.S. District Court for the District of Columbia to grant an injunction preventing Trump from carrying out the ban. It goes on to list the details of each plaintiff's military service, and elaborates on how the ban would impact their lives.
The filing shouldn't come as a surprise; after the president tweeted last month that trans troops wouldn't be allowed to serve "in any capacity" in the military, at least four LGBTQ-advocacy organizations told the Washington Post they were prepared to challenge the ban in court. But at the time, the ambiguity of Trump's announcement (just a string of tweets, with no plan to implement it) kept them from doing so.
Since then, the Trump administration hasn't really clarified whether or how the ban will be enforced. Press secretary Sarah Huckabee Sanders dodged the question in a press briefing later that day, and the chairman of the Joint Chiefs of Staff (whom Trump apparently declined to consult) sent out a memo saying that there would be "no modifications to the current policy until the President's direction has been received by the Secretary of Defense and the Secretary has issued implementation guidance."
Many experts have also pointed out that the ban is unconstitutional.