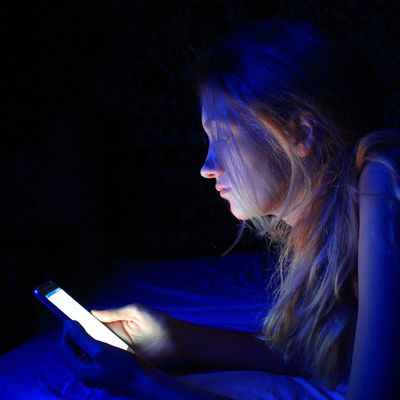 More transgender youth are contacting the Trevor Project.
Photo: sapozhnik/Getty Images/iStockphoto
The Trevor Project, the largest national LGBTQ youth suicide-prevention organization, has seen a "dramatic spike" in calls, online chats, and texts from transgender youth following President Donald Trump's tweets about transgender military service members and the introduction of a "bathroom bill" in the Texas legislature.
On an average day, the Trevor Project usually receives 178 contacts — 7.3 percent of whom self-identify as transgender, the group revealed in a statement. But within 24 hours of Trump's tweets in late July saying that transgender people would not be allowed to serve in the U.S. military "in any capacity," the number of calls from transgender youth increased to 17.5 percent of contacts the organization received.
Additionally, during the week following the proposal of an anti-trans "bathroom bill" in Texas — which was first introduced in January and is currently being considered as part of a month-long special legislative session — the contacts from transgender youth doubled to 14.7 percent. Like the North Carolina "bathroom bill" before it, this piece of legislation requires use of the bathrooms in public facilities comporting with one's birth-certificate gender and would go against local ordinances protecting transgender rights.
"This data makes clear that our elected officials can no longer ignore that their anti-transgender rhetoric is putting lives at risk," Trevor Project's CEO and executive director Amit Paley said in a statement. "Anti-LGBTQ rhetoric and legislation directly leads to crisis among our community's young people." Paley went on to say that the Trevor Project will continue to operate "around-the-clock" as a resource for LGBTQ youth, but that it's also vital for elected officials to "stop throwing young people into crisis for political gain."