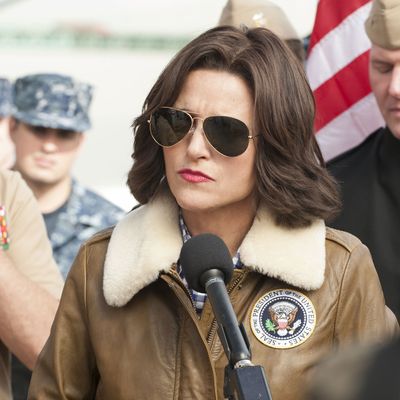 Julia Louis-Dreyfus as Selina Meyer in
Veep
, hiding her recent under-eye bag surgery.
Photo: HBO
There's hardly been a slow day since Trump took office in January and, according to Vanity Fair, this has impacted D.C. politicians in one very specific way: They've had to rethink their plastic-surgery schedules.
There appear to be two main resulting trends. For starters, Dr. Ariel Rad says, the start of the August recess is typically when members of Congress will schedule procedures, so they have adequate healing and recovery time. But, because it's been so hectic, that's changed:
"Since the August recess has been delayed by this health-care bill in particular, I have a sort of a backlog of patients who have been waiting for the dates to become much more clear so that they can schedule. Now the end of August is particularly busy with congresspeople."
But the surgeons Vanity Fair talked to said that, overall, the Trump administration has been good for business. While politicians may be putting off larger surgeries, they say they've seen an uptick in noninvasive or minimally invasive procedures, like tightening skin, adding fillers, and using lasers. This is because, as Dr. Noëlle Sherber puts it, they want to be "H.D. camera-ready" should they be called to comment on the news at any given time. (Sherber, Dr. Terrence Keaney, and Dr. Michael Somenek all said they treat more men than is the average.)
The recovery period is exceptionally short, too, so they can get a little refresh and get back to voting to take away millions of Americans' health care in no time.