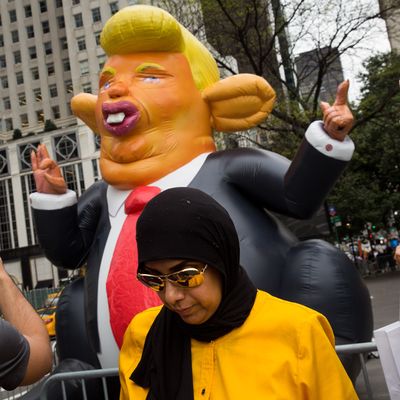 Trump rat.
Photo: Drew Angerer/Getty Images
Another day, another giant, inflatable animal with a Trumpcut. First there was the chicken behind the White House, and now, there is the 15-foot inflatable "Trump Rat," whose beady eyes, fleshy lips, and buck teeth will invade your thoughts every time you try to have an intimate moment with your partner from now on.
Modeled after Scabby the Union Rat, the inflatable rats frequently used by labor unions to protest worksites accused of union-busting, Trump Rat has a long tail, protruding ears, a Russian-flag lapel, and Confederate-flag cufflinks.
The rodent-president was erected on Monday, two blocks away from Trump Tower, ahead of the president's first visit home since inauguration. Trump was initially expected to return to New York City on Sunday, but was delayed after the events in Charlottesville, Virginia, and by trying to decide whether or not to condemn nazis. When he finally arrived at Trump Tower on Monday night, the president was greeted by his inflatable likeness, as well as thousands of protesters shouting, "No Trump, no KKK, no fascist USA!"
Trump Rat was commissioned and installed by BravinLee, a Chelsea gallery, and funded by a Kickstarter campaign. And according to BravinLee's website, the rat will be available to rent:
The inflatable rat, an enduring sign of resistance and ridicule, has been re-purposed to help lead protest against Trump's policies. Funded through a Kickstarter campaign and originally designed by Artist, Jeffrey Beebe, the intent was to fabricate an inflatable Trump Rat and get it out into the world, keep it circulating, and loan it out to protests. We will inflate and position it in as many different locations that we are able. This inflatable was made in America.
But just days after 32-year-old Heather Heyer was killed while protesting white nationalists in Charlottesville, and with the threat of nuclear war looming over our heads, John Lee of BravinLee is quick to point out that this grotesque inflatable is not a political statement.
"Political discussion is one for me where people trade ideas about what the actual policies are, on the issues, I don't think thats what we're [doing] here," he told Gothamist."We want to ridicule this very thin-skinned, very incompetent guy who has no business being President of the United States."
Whether Trump is offended or not, the repulsive image of Trump Rat will haunt my psyche for a long time to come.