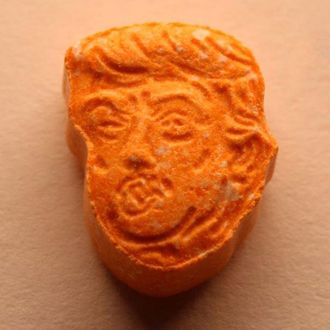 Not since that party pigeon was caught with a tiny backpack full of pills has there been a drug bust so strange: Police in Germany, where clubbing is a national pastime, seized 5,000 Donald Trump–themed ecstasy pills over the weekend.
The pills were found when police pulled over two Austrians — a father and his teenage son — for a traffic stop in the city of Osnabrück. When they searched the car, the authorities discovered 5,000 orange ecstasy pills made to look like tiny Trump heads, with his last name stamped on the back. The estimated value is around $458,000.
The Trump E is reportedly being advertised on the dark web with the tagline "Trump makes partying great again" — though, if the maker really wanted to make an appropriately Trump-themed drug, they should've gone with something like bath salts.