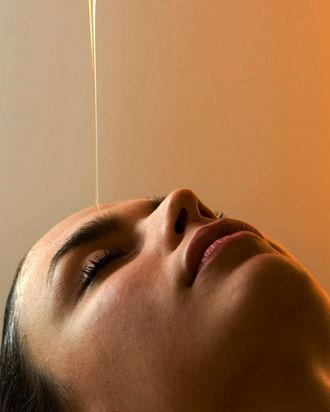 Face oil.
Photo: Claudio Beduschi/AGF/UIG via Getty Images
If your skin-care routine has over three steps, it's a humblebrag. It's so much work but it's the only thing that works for my skin, says your most high-maintenance friend (maybe she even has a Google doc listing out her regimen). With all the options available for treating your face, it can be tempting to conflate effectiveness with effort. Inevitably, someone had to come along to tell us we had it all wrong.
The internet's reviews for Vintner's Daughter sound as if heaven or the Rock himself is in these bottles. "Believe the hype," says one. "A product I'm truly excited to review," says another. "My skin was absolutely perfect. Perfect!" a longtime cystic acne sufferer said. "The oil to end all face oils," said Into the Gloss. "If people just understood that when you get this serum, you can throw out everything else," said another. Creator April Gargiulo, who is quite literally the daughter of a vintner, says she's received emails from customers with all skin types who say it's cured, well — everything. She's heard claims of it reducing hangovers. People write to tell her that the oil has given them the confidence to go makeup-free. Some claim that after they started using it, friends asked them if they got "work" done. A fellow editor, describing to me how much she loved it, used the word "glow" seven times.
Enter Vintner's Daughter — a pricey, "natural," face oil serum in a nondescript, off-the-shelf glass bottle, created by a beauty industry outsider — the little-known brand that has jaded fashion and beauty editors excited about tossing out the rest of the makeup and skin care routines.
The success seems like it whizzed in overnight. It's not the work of a beauty conglomerate (although rumor has it there's been some whispered talks of possible acquisition by a few big beauty brands. Gargiulo says she has never discussed selling the brand). There's no advertising, Instagram, or celebrity face, though Tracee Ellis Ross was the brand's first celebrity fan, and Gwyneth Paltrow has done unsolicited endorsements. There's just one product, the face oil that contains over 22 different botanicals. Most face oils are composed of merely a few botanicals, for example Fresh's Seaberry Oil has six, and Sunday Riley's Juno Cellular Face Oil has nine. But Vintner's Daughter has the lengthiest list of ingredients of any natural product I've ever seen. "We have 22 ingredients, but if you looked at our constituents, all of the antioxidants and vitamins and minerals, it's actually over 80," Gargiulo told me. She approached creating a skin-care product like a winemaker, with a focus on quality. The goal, she said, was to make something "multi-correctional," so that users wouldn't need to put anything else on their faces — a "drop-the-mic-right-away" kind of serum.
But does the more-is-more philosophy make sense when it comes to natural skin care? "It's a lot of great things in low doses," Dr. Dan Belkin, an associate at the Laser and Skin Surgery Center of New York, tells me when I ask him to take a closer look at the label. "She did a good job of collecting low doses of essential oils that are shown in some way in the literature to have various beneficial properties." Vintner's Daughter face oil contains small amounts of turmeric oil, for instance, which has been shown in basic science studies to have anti-oxidative benefits. He points out another essential oil which has Vitamin A or retinoic acid — an ingredient long proven to speed up cell turnover. Surprisingly, resveratrol, a common, antioxidant-rich by-product of red-wine making, is absent from the formula, despite Gargiulo's background in the industry. "It's not oil-soluble. It's a great ingredient, but wouldn't have worked in our formulation," Gargiulo explains.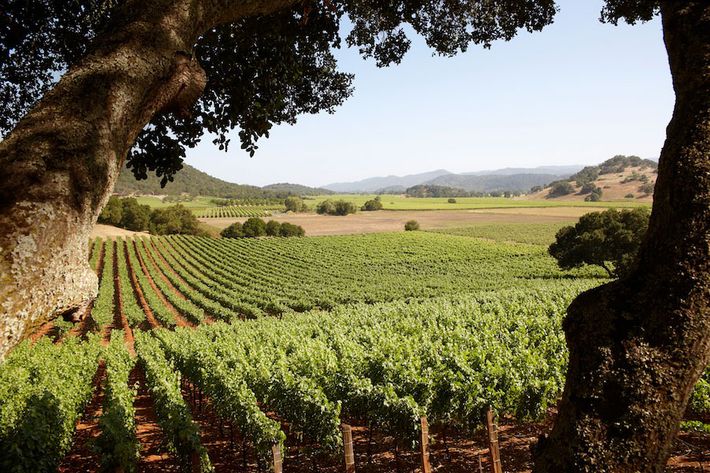 "With 22 elements, it's kind of like everything but the kitchen sink," says Dr. Joshua Zeichner, director of cosmetic and clinical research in the department of dermatology at Mount Sinai Hospital. "The advantage of a product like this is that it captures the effect of the active ingredient from its natural state."
But according to Gargiulo, the 22 elements have synergistic and additive benefits. "We wanted a group and family that worked really well together and complemented each other," she explains. For example, "the cypress and frankincense, they work together and create a microcirculatory effect to your skin, it helps nourish and heal your skin." On this, the dermatologists aren't so sure. "When you have so many actives, it's not clear what is giving benefit to the skin. Are all of them working together? Is it one ingredient? Is it synergistic?" questions Dr. Zeichner.
"I don't think [any of the botanicals] compete with each other. They are beneficial in low doses. But it's hard to say clinically whether it's enough of a concentration to do much," offers Dr. Belkin.
There's a larger debate about whether essential oils are even good for skin. Paula Begoun of Paula's Choice flatly states on her site that "there is no best essential oil for skin. They all pose a risk in some way or another." Tiffany Masterson, Drunk Elephant's creator, doesn't include them in her formulations.
Bergamot, which is photosensitive, is among the Vintner's Daughter ingredients; it makes you more sensitive to sunlight and sunburn. "Plants have a lot of allergens. There are some in this mix that have been reported to cause contact dermatitis. But essential oils are not well-studied. There have been studies isolating components, but not with an essential oil mix. There aren't great studies or data, which is why essential oils fall into the area of complementary medicine. As for it being touted as this cure for cystic acne and all these things — I wouldn't say that," says Dr. Belkin.
To Gargiulo, it's not fair to characterize all essential oils as detrimental. She believes that essential oils are unfairly vilified because so many of them are "cheaply, inexpensively made" and not used correctly. Dr. Belkin disagrees. "That's not true at all. Even if it's clean, you may not have complicating factors that may be causing sensitivity. But definitely the pure form of an essential oil can cause allergies in some people. Rarely, but possible."
Anecdotally, the evidence is strongly in Gargiulo's favor. Emily Ferber, Into the Gloss's senior editor, says she has acne-prone, combination skin sensitive to synthetic fragrance. She explains to me that she loves the product because it's "so hard-working." "My cystic pimples are more or less gone since bringing it back into my routine. It combats acne, redness, and pore size better than basically anything else I try."
Sally Holmes, Elle.com's executive editor, mentioned the product in Elle's September issue. She told me she even gave up eyeliner because of how awake, even, and rested it's made her skin look. "It truly gives me a glow that I swear cannot be a placebo glow because people have commented on how good my skin looks since I've started using it."
A few days ago, spurred on by all the rave reviews, I finally decided to give it a try. On the phone with me from California, Gargiulo explained how to use it as a first-timer. "Keep it simple. You don't need a complicated routine," she said confidently. "Do a cleanser if you use makeup and double cleanse, if you want. Apply the active botanical serum and put five to six drops in your palm, distribute it, take the full hand and push press it into your skin," an action she calls the push-press.
Giving up my complicated beauty routine felt like I was shirking my job, but I gave it a go. Even compared to other face oils, it's very perfumey — a strong floral blend of jasmine, rose, and primrose. All of the fans are rhapsodic about the smell, but I find the potency a bit overwhelming. Glancing with longing at my Korean toners, my glycolic acid serums, my favorite rose-infused moisturizer, I push-press the Vintner's oil into my skin. My beauty routine feels truncated, almost anticlimactic. That's it?
After a few days, I can report that my skin looks mostly matte, just a little more filled out. It's full but not puffy, and it's not radiating an oily sheen. It feels soft, but not grainy or slippery to the touch, and I'm impressed that the feeling stays with me throughout my day. It doesn't cause my sunscreen to pill. And after one sleepless night, I notice that my complexion looks a little bit less ghoulish and shadowed after I push-press it into my skin. It does look "glowy."
Using the serum as instructed is also undeniably more efficient. Halving the time I spend on my beauty routine, I start arriving earlier to work every morning because what else can I do now that I have all this free time? I haven't used Vintner's Daughter long enough to report on its long-term benefits, but at the very least, I can say the serum has bought me time. Perhaps even more priceless is the faux bragging rights of being a low-maintenance person.
Photo: Courtesy of Vintner's Daughter
If you buy something through our links, New York may earn an affiliate commission.