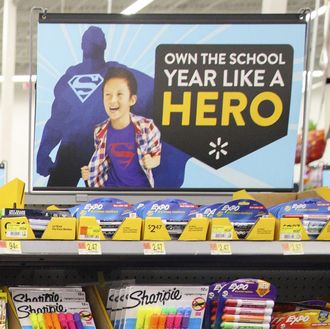 A Walmart back-to-school display.
Photo: Patrick T. Fallon/Bloomberg via Getty Images
We're now fully in the inescapable throes of back-to-school season and, even if you're not shopping for yourself or your kids, you've probably been inundated with advertisements for notebooks, pens, backpacks, and Trapper Keepers that will be ruined within two weeks of the school year. In the case of one Walmart store, you can add something else to that list of supplies: guns.
On Wednesday, Ismail Kidd Noorzai posted the below image — which depicts a sign that reads "Own the school year like a hero" hanging over a gun case — to his Twitter. He told Snopes he initially came across it on Reddit.
It was shared by multiple accounts, and the retailer was criticized for the suggestion, considering the frequency of school shootings and gun violence in America. It's unclear if the sign was added to the gun case by an employee or a shopper.
Walmart has since apologized profusely, both on Twitter and through a spokesperson. Per CNN Money, the "company is 'not happy' and is 'working diligently' to find out where the photo was taken and ensure the sign has been removed."