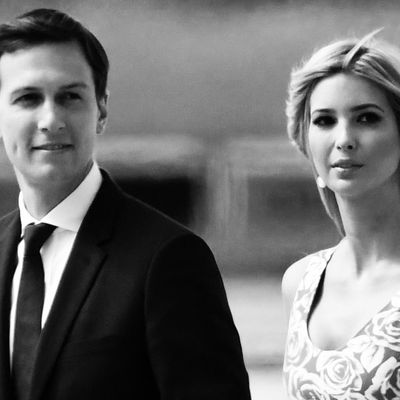 Jared Kushner and Ivanka Trump.
Photo: BERND VON JUTRCZENKA/AFP/Getty Images
Ivanka Trump and Jared Kushner's roles in the White House have always been somewhat touch and go — Kushner has been tasked with an almost laughable number of issues, while the First Daughter is trying somewhat unsuccessfully to make headway on things like paid leave and child-care tax credits. But according to a new report from Vanity Fair, the fact that neither have really produced results for the Trump administration isn't all that surprising:
Outside the White House, a key problem seems to be, as one Washington veteran told me, that Kushner and Ivanka don't have the necessary self-awareness — don't understand how to behave when you roll into Washington as the creature of someone else. Most such people take a seat a little off to the side, at least until they get their bearings. "What is off-putting about them is they do not grasp their essential irrelevance," this veteran told me. "They think they are special."
In fact, outside of Ivanka's dad, the couple doesn't seem to have much sway at all. Vanity Fair's Emily Jane Fox notes that "Washington's bureaucratic levers and time-honored operating rules remain a mystery" to the first daughter and her husband. And they seem totally unwilling to learn: "People close to Kushner and Ivanka say that they have come to Washington for a limited time to work, not make inroads into the social scene, much less put down roots."
However, they do excel in one area: waging war within the West Wing. They've reportedly "engaged in Trump's humiliation of various staffers," including those such as Steve Bannon and Reince Priebus, whom they've disagreed with, and who were eventually ousted.
Ivanka in particular is good at playing the game: "She tries to charm you at first, and then there'll be the cutting remark in front of her father," a former adviser said.
In the end, said the Washington veteran, neither aide is particularly useful. Yet it seems likely Trump will keep them on. "Trump is emotionally dependent on his son-in-law and his daughter … but they can't do anything for him," the veteran said. "All they can do is make him feel better about what his life has come to."