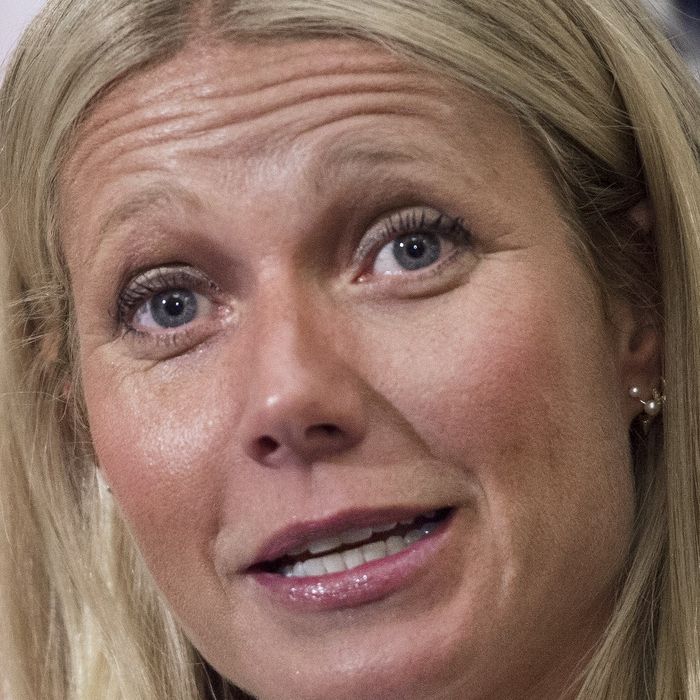 Gwyneth Paltrow.
Photo: PAUL J. RICHARDS/AFP/Getty Images
Goop, Gwyneth Paltrow's lifestyle website and one of the nation's leading advocates for sticking expensive rocks up your vagina, has been regularly criticized for its dubious wellness advice. The latest group to denounce the website's claims is Truth in Advertising (TINA) a consumer watchdog group that, on Tuesday, filed a formal complaint with California state regulators, calling on them to investigate Goop's marketing.
In a blog post, the group quoted their executive director, Bonnie Patten, who said:
Marketing products as having the ability to treat diseases and disorders not only violates established law but is a terribly deceptive marketing ploy that is being used by Goop to exploit women for its own financial gain. Goop needs to stop its misleading profits-over-people marketing immediately.
TINA also compiled a list of 50 instances in which Goop promoted products it claimed could treat a wide variety of ailments, including depression, anxiety, insomnia, uterine prolapse, and arthritis. Among the products listed were the jade vagina egg, which Goop has claimed can increase vaginal muscle tone and hormonal imbalance, and the Body Vibes stickers, which Goop claimed in June were made with the same conductive carbon material NASA uses to line space suits (they weren't).
"The problem is that the company does not possess the competent and reliable scientific evidence required by law to make such claims," TINA wrote in their blog post.
The group said they filed the complaint after they contacted Goop with a list of their concerns on August 11, and the company "only made limited changes to its marketing."
Goop denies that's how the interaction happened, and a spokesperson told People:
Goop is dedicated to introducing unique products and offerings and encouraging constructive conversation surrounding new ideas. We are receptive to feedback and consistently seek to improve the quality of the products and information referenced on our site. We responded promptly and in good faith to the initial outreach from representatives of TINA and hoped to engage with them to address their concerns. Unfortunately, they provided limited information and made threats under arbitrary deadlines which were not reasonable under the circumstances.
In Goop's defense, can it really be considered deceptive marketing if their founder and CEO publicly says, "I don't know what the fuck we talk about"?