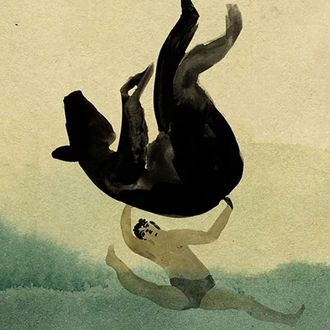 Photo: Laia Arqueros Claramunt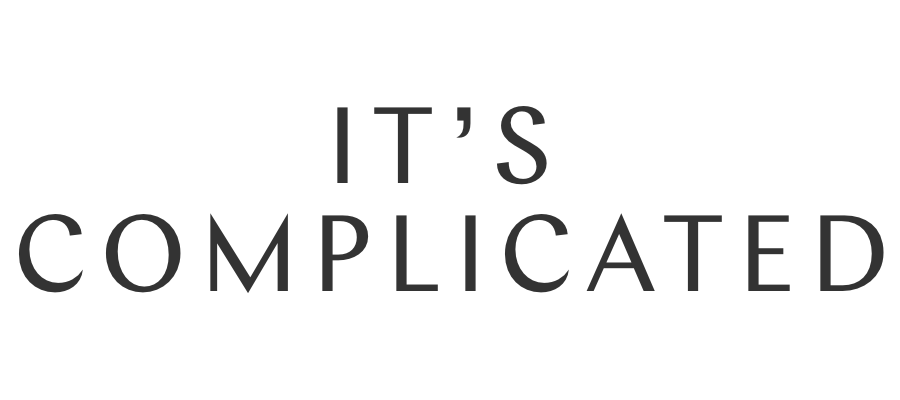 Welcome to It's Complicated, a week of stories on the sometimes frustrating, sometimes confusing, always engrossing subject of modern relationships.
In the summer of 2002, I was a 28-year-old marine biologist, backpacking through Asia with my fiancé, Sean. We'd met almost four years earlier, backpacking in Barcelona, and had spent most of our relationship traveling. Staying in sometimes squalid hostels, trying to sleep in the cheap seats on overnight trains, and picnicking across Europe — bread rolls with peanut butter for me and Vegemite for him. I'd grown up in California, but Sean was from Melbourne. He had a broad working-class Australian accent and a dimpled smile, was flirtatious and funny and true, and not yet 26 years old. That summer, we were on Ko Pha Ngan in Thailand, kissing in the warm, shallow water. The box jellyfish grazed my thigh first, before wrapping itself around Sean's legs below me. He died, minutes later, collapsed onto the wet sand.
I have never felt more alone in the world. It took a week to get his body home. Then there was his funeral — packed pews in a cold Catholic church, his dark wooden casket being lowered into the ground, heavy pints of Guinness at the Irish pub for his wake. I woke the next morning weak, shaky, frightened, and nauseated, with no idea what to do next. Sean died 15 years ago last week, and in some ways, it feels as if I'm still trying to figure out what to do next.
***
I spent over four months after Sean's funeral backpacking again, traveling this time on my own, through the winter in Eastern Europe. Then, although I wasn't really ready, I returned to finish my Ph.D. in marine biology, studying Australian sea lions on Kangaroo Island and living, without Sean, in Melbourne. I met Ricky over a pool table at a local dive bar there, 14 months after Sean's death. Ricky had crazy black curls and dark eyes. I'd barely told him my name before he announced that we'd drive Route 66 across the U.S., with me on the back of his motorbike. When he kissed me that night, I could smell pool-cue chalk, his cologne and leather motorcycle jacket, the stale beer from the bar. Ricky turned out to be a Maori blues musician, six and a half years younger than I was, six-foot-four to my not-quite-five-foot-two. He was incredibly sexy, incredibly reckless, temperamental, talented, and terrible with money …
But Sean was always in the room. A part of me was constantly back on that beach in Thailand watching him die, screaming for an ambulance that would never arrive. Or sitting on his lap in a hotel room in Shanghai as he proposed over pork buns and then kissed me—salty and sticky and sweet.
… And Ricky was here. Ricky was alive. It couldn't possibly ever get serious between us, so it seemed okay. I was going to be okay. I had to be okay. Ricky met all of Sean's friends in Melbourne, I took him to the bars and restaurants Sean had introduced me to, we brought bottles of Crown Lager to Sean's grave, drove to the ocean on the anniversary of Sean's death. At the beginning, it was the three of us: Sean and me and Ricky. I'd wake from nightmares — coming up from the depths, still holding my breath, and surprised to find myself next to Ricky's new twisted dreadlocks, his tattooed arms, his long dark legs sprawled across his thin mattress on the floor.
Sean started to fade, just a little. Ricky dragged me to gigs all over Melbourne (Beautiful Girls, Cat Empire, Salmonella Dub) where we'd dance together drunk and I could hardly hear Sean at all. I spent my 30th birthday hosting a small party in the back garden of my shared house: my flatmates strung fairy lights, the one who worked as a chef cooked spicy seafood hot pots, Ricky sang and played guitar. I'd been dreading the birthday since Thailand — all of my friends were marrying their high-school and college sweethearts, buying houses, having babies — but I did a pretty good job that night of convincing even myself that I'd recovered.
It didn't last long. My grief and Ricky's temper overwhelmed us. Maybe Ricky thought he would be able to fix me, and was angry when he couldn't. His eyes would grow cold, the muscles in his neck would pop, and I knew what was coming. Sean would never have called me names, broken bottles at my feet, thrown furniture around the room. I knew it wasn't fair to compare. Sean and I had only been engaged ten days. We'd hadn't had the chance to move in together, much less argue about who last emptied the dishwasher. But whenever Ricky and I fought, all I could hold on to was Sean.
***
I finished my Ph.D. Ricky and I moved from Melbourne to California to New Zealand. We broke up and got back together again and again. Until I left for the last time, for my second season in Antarctica as the marine mammal biologist onboard the expedition ship M.S. Explorer. I watched wandering albatross sky-point and spread their wings as they wooed their life partner; gentoo penguin chicks break through their shells to hatch into the world; packs of killer whales stalk and hunt crab-eater seals asleep on the ice floes. And I spent hours staring out at a frozen sea.
Ben was from London, the assistant expedition leader, and taught me to drive the inflatable Zodiac boats we climbed into and held on as they were lowered by crane off the side of Explorer and into the water. Ben was strong and competent and adventurous, with hazel eyes and glasses, a British wit and intellect, and all the time in the world for me. My stomach flipped if he just placed his hand on the small of my back. And for a while again, there were three of us: Sean and me and Ben. It was long-distance for months —Ben wrote postcards from the Arctic while I taught a course on killer whales in the San Juan Islands, Ben flew from London to Washington, D.C., where I had a fellowship, to be there for the five-year anniversary of Sean's death.
I moved to London and Ben and I continued to work in the poles together. As we waited for my eligibility for U.K. residency, I began to write a memoir during the off-seasons about the trip I took through Eastern Europe after Sean died. Ben read my pages, and then he stopped reading.
I still had nightmares — visions of giant orange jellyfish, getting tangled and caught in seaweed or fishing line, someone drowning right next to me who I could not save. When Ben woke, he'd pull me to him, whispering in my ear, "Where are you? Come back." And I would.
For my 36th birthday, Ben surprised me with a trip to the coast. We had fish and chips with mushy peas, afternoon tea with scones and jam, went out in the evening for clotted-cream ice-cream cones. It rained almost the entire week we were in Cornwall, but when we arrived on tiny Lundy Island off the coast of Devon it was bright, windy, and cold. We spent the days scrambling up and down steep granite cliffs looking for gray seals and puffins, and slept at night in the bunk beds at Tibbetts, a stone cottage with no electricity and pumped water said to be the remotest house in England.
I couldn't have been more surprised one afternoon over tea at Tibbetts when Ben got down on one knee and produced a wooden box with a set of three platinum rings he'd designed himself — white diamonds for the ice of the poles, blue diamonds for the sea, and brown for the earth. An engagement ring, a wedding ring, and the third ring for our children. I was already four months pregnant, and Sean was nowhere near Lundy that day. Ben and I celebrated the next morning, according to a Tibbetts tradition, by running around the cottage naked at dawn.
We got married two months later on Fuglesangen, an even tinier island up in the Arctic, on a rocky snow-covered beach, both wearing lifejackets and with rifles slung over our shoulders to protect us from polar bears. The captain of our expedition ship Polaris performed the ceremony, and other than that it was just Ben, me, and our unborn son.
Ben and I were married for over five and a half years, together for almost nine, and have three healthy, happy, boisterous children. But our approaches to parenting couldn't have been more different, and Ben stopped talking to me long before the night he left. Sean was not the reason our marriage ended, but he probably didn't help either. I'd find myself lonely and frustrated, remembering how Sean always used to whistle, or how we'd lie in bed together listening to Ryan Adams's Gold, or how Sean would interrupt a story I was telling to say that he loved me.
For 15 years, Sean's been there at the beginning of my relationships and he's there again at the end. He's allowed in because he isn't an ex. He will always only be 25, and I can't ever look him up online to see where he's living, how pretty his wife is, the accomplishments of his kids, or how surprisingly badly he's aged. I know our life together wouldn't have been perfect, yet I can't stop myself from wondering how many children we might have had, if we would have been happy. At 43, I'm now a single mum. I wouldn't choose to be single, but it's a small relief to stop feeling guilty about missing Sean. I've fallen in, and out of, love. I've tried to let go. But I've never wanted him to disappear. He's forever, and never with me.
The memoir I began years ago is finally out in the world. My kids — who are 2, 4, and 6 — see the boxes of books arrive in the mail, whine about babysitters when I have to leave for an evening reading. I do my best to explain love, loss, and jellyfish. "Ghosts can be friendly," my oldest son tells me one day. I think maybe he wants one. He has no idea how complicated life with a friendly ghost can be.
Shannon Leone Fowler is a writer and marine biologist. Her memoir, Traveling With Ghosts, is out now.