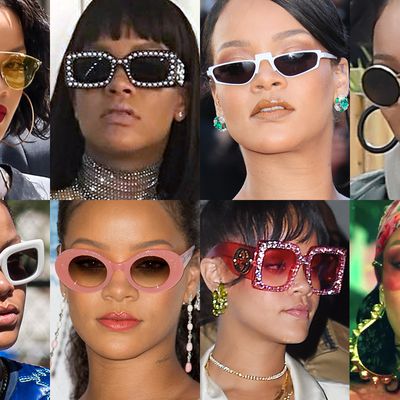 Rihanna.
Photo: Getty Images, Splash News, BackGrid
From one sunglasses addict to another, no one has a stronger specs game than Rihanna. Her glorious collection is A1-level quality. One look at the pop star's latest red-carpet appearances, and you'll understand why: When everyone else does an illusion dress at Cannes, Rih is throws us for a loop in Keanu-esque Matrix sunglasses and a white ball gown. A night out to dinner demands pink Gucci sunglasses dripping in Swarovski crystals. The singer's Instagram is a treasure trove of enviable frames, with the price tags to match. But thankfully, there's an affordable dupe for everything. Here we've broken down Rihanna's best styles, including where you can get the originals as well as their affordable alternatives for when you're still waiting on that direct deposit to clear.
Photo: DAHE, DARA/BACKGRID
We had a hunch yellow lenses would be a huge hit this season, so it was no surprise when the queen of trends wore them herself back in May. In the spirit of the trend, Dior revamped their popular So Real brow-less aviator sunglasses to include rainbow-colored lenses that would make even Lisa Frank jealous. They retail for $450 each due to the unique combination of a semi-octagonal shape, brow-less frame, and yellow lenses. It's a hard style to duplicate exactly, but you can be just as cool in this $13 pair from Amazon.
The Over-the-Top Hater Blockers
Photo: Josiah Kamau/BuzzFoto via Getty Images
Despite their $1,400 price, these flashy rose shades have managed to sell out at most online retailers, including Gucci's own site. But I've found a pair that could rival their designer counterpart in extravagance. They also happen to be on sale, so act fast.
The John Lennon Look-alikes
Photo: Raymond Hall/GC Images
If you want your sunglasses to be a little more John Lennon and a little less Kurt Cobain, go for a round shape like these. Circle lenses tend to work best with more square and angular face shapes, but Saint Laurent's version is just so cool that it'll look good on everyone. It's definitely not your typical type of frame, but take a cue from Rihanna and wear it with a more relaxed look to tone down the drama.
If You Can't Get Enough of the '90s Oval Frame
Photo: Laurent Viteur/WireImage
Like all '90s fashion trends that have circled back around, the summer also ushered in the resurgence of the oval frame. It's so popular that pretty much everyone is making their own iteration, from Mango to Forever 21. But if we're talking about nailing the $565 Cutler and Gross frames Rihanna wore to the Valerian Paris premiere, these from Crap Eyewear are the next-best thing. The ironically named label is also a great resource for more shades with '90s flair at reasonable prices.
Photo: Alessio Botticelli/GC Images
There's a reason why Rihanna wears these just about every day; the quality of Raen sunglasses is just that good and they're affordable. Their sturdy construction is such that even when they accidentally nosedived onto the cement, my pair came out without scratch. So in this case, we'd advise to buy the real thing. That said, if you want to spend less, Urban Outfitters' glasses are less angular but still a worthy cheap competitor.
The "Wild Thoughts" Sunglasses
Photo: Epic/Sony Records
Weeks later and everyone's still talking about Rihanna's outfits in the "Wild Thoughts" video — those pantaboots, those earrings, that sheer aqua dress! One of the easiest (and most practical) ways to best replicate her sultry opening look is with the same Karen Walker frames. Finding a true dupe was harder in this instance because the partially rimless style hasn't yet trickled down to the fast-fashion masses. If you're in a rush to look just like Rih, H&M's rose-tinted frames still capture the same "steamy nights on Ocean Drive" feel.
The One-of-a-Kind Vintage Find
Photo: Charles Pitt/246paps/MEGA
Technically the exact pair Rihanna is wearing are vintage Versace, but for those who don't want to waste time tracking them down on eBay, the brand sells a similar crystal style for $260. You could also do what most savvy stylists and fashion editors do, and look to Giant Vintage. The site is an emporium for dead-stock and hard-to-find shades at cheap prices (most are under $20) and less hassle than an eBay transaction.
The Crazy Gucci Sunglasses Part II
Of course if you're a pop star just one pair of crazy Gucci sunglasses won't suffice. If you're going to wear the brand's full-body crystal leotard you might as well add a pair of pearl-embellished shades too. The Asos version does the original inspiration justice, except they swapped with crystals.
If you buy something through our links, New York may earn an affiliate commission.