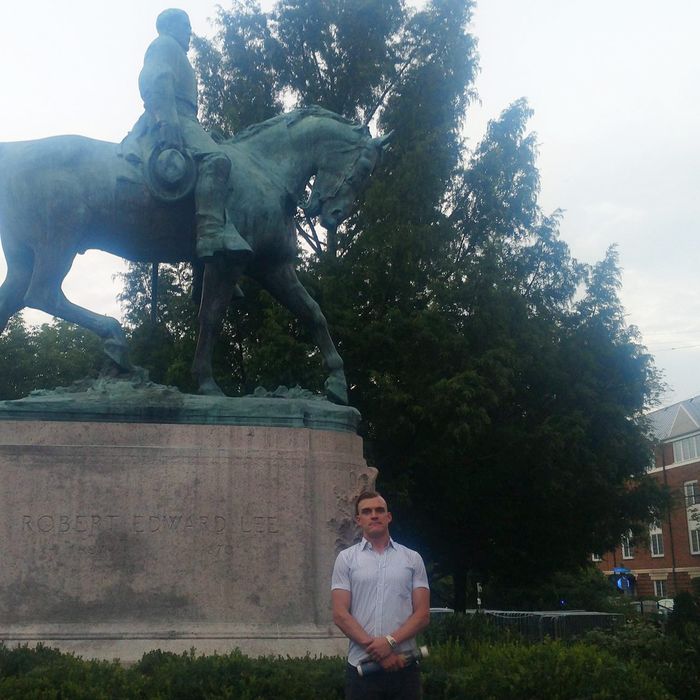 Peter Tefft traveled to Charlottesville, Virginia, over the weekend for a white-nationalist rally.
Photo: Courtesy of Facebook/pete.tefft.1
Peter Tefft was one of the dozens of white nationalists who descended on Charlottesville, Virginia, over the weekend for a rally that led to one woman's death and the injury of several others. And on Monday, North Dakota–Minnesota news site Inforum published a letter in which Tefft's father, Pearce Tefft, denounces his actions and more or less disowns him.
"I am writing to all, with regards to my youngest son, Peter Tefft, an avowed white nationalist who has been featured in a number of local news stories over the last several months," the letter begins. It goes on, "I, along with all of his siblings and his entire family, wish to loudly repudiate my son's vile, hateful and racist rhetoric and actions."
Pearce Tefft goes on to say that he raised Peter to value inclusivity, but that he's "chosen to unlearn these lessons." He adds that Peter's family has "been silent up until now, but now we see that this was a mistake." After participating in the chaos and violence in Charlottesville, Peter "is not welcome at our family gatherings any longer," his father writes. Pearce ends his letter on a devastating note:
He once joked, "The thing about us fascists is, it's not that we don't believe in freedom of speech. You can say whatever you want. We'll just throw you in an oven."




Peter, you will have to shovel our bodies into the oven, too. Please son, renounce the hate, accept and love all.
Peter Tefft, who lives in Fargo, North Dakota, has previously clashed with other residents of the town. In February, Inforum reported that signs denouncing Tefft appeared downtown and asked people to "make sure that he knows he is not welcome in our community."