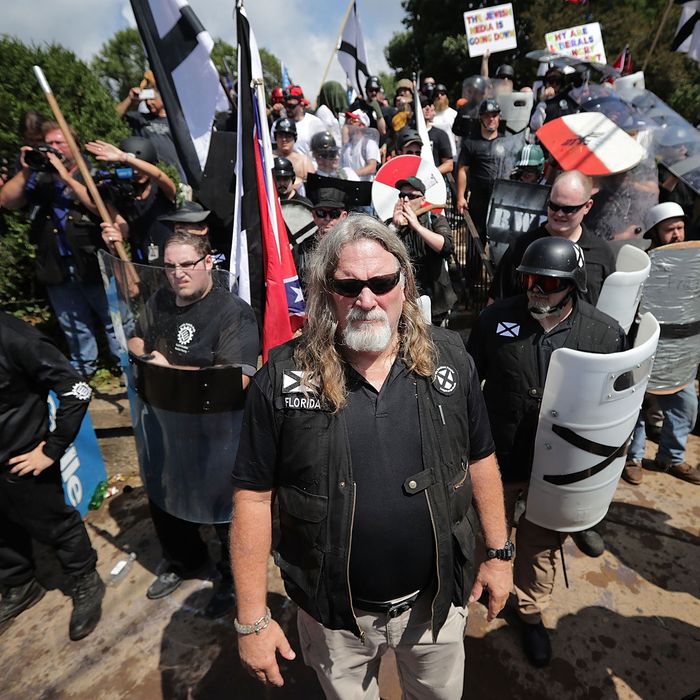 White nationalists in Charlottesville, Virginia.
Photo: Chip Somodevilla/Getty Images
As genetic-ancestry kits increase in popularity, more white nationalists have been taking the spit-in-a-cup tests to prove their heritage — and many are left disappointed by results showing they aren't as "white" as they had hoped, STAT News reports.
A new study from researchers at the University of California, Los Angeles, and the Data & Society Research Institute examined comments left in 12 million posts on the website Stormfront, left by more than 300,000 users. The team was able to find 70 discussion threads, where 153 users posted about their test results from companies like 23andMe and Ancestry.com — with more than 3,000 posts in response.
Sociologist Aaron Panofsky explained to STAT News that many of the white nationalists would post their results, even if they were upset to learn they weren't completely "white" — which was surprising because "they will basically say if you want to be a member of Stormfront you have to be 100 percent white European, not Jewish."
Only a third of people who posted their ancestry results were pleased with what they discovered — a commenter with the username Sloth even wrote, "Pretty damn pure blood." Those who found themselves with results that weren't 100 percent white European dealt with their disappointment by rejecting the test or disputing the results. Some would say they knew their genealogy better than whatever a genetic test may reveal; certain users also apparently tried to discredit the tests as a Jewish conspiracy.
Panofsky notes that there is "mainstream critical literature" on these tests that ague people should be cautious about the results. J. Scott Roberts, an associate professor at the University of Michigan who wasn't involved in the study, told STAT News, "The science is often murky in those areas and gives ambiguous information. They try to give specific percentages from this region, or x percent disease risk, and my sense is that that is an artificially precise estimate." However, STAT News points out that Ancestry.com and 23andMe are "meticulous" in how they analyze a person's genetic material, and exclude outliers that can distort a person's genetic data.