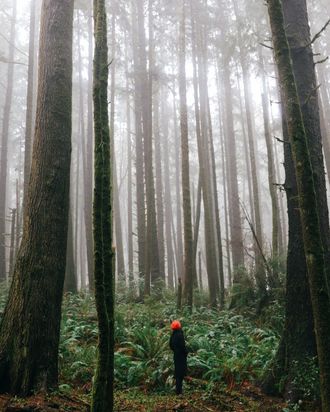 Even Hayes's vacation photos look like fashion portraits.
Photo: Courtesy of Whitney Hayes
Weekend With is an ongoing Instagram series that features people we like photographing places we'd like to be. Follow @thecut on Instagram to join in, and tag your photos with #weekendwith when you travel somewhere new.
"For me, Oregon is a moody loner," says photographer Whitney Hayes. She's known for her atmospheric fashion photos and portraits, but this weekend she turned her lens on the Pacific Northwest for the Cut. It's easy to imagine a model in couture walking through one of her landscape shots, and in fact, Hayes she says she often uses her travel photos as inspiration for her fashion work.
Hayes captured Oregon in a different light than many people are used to seeing — think less Portlandia and more National Geographic. From coastal beaches to sprawling forests, the dramatic landscape makes a good case for planning a fall trip to the West Coast.