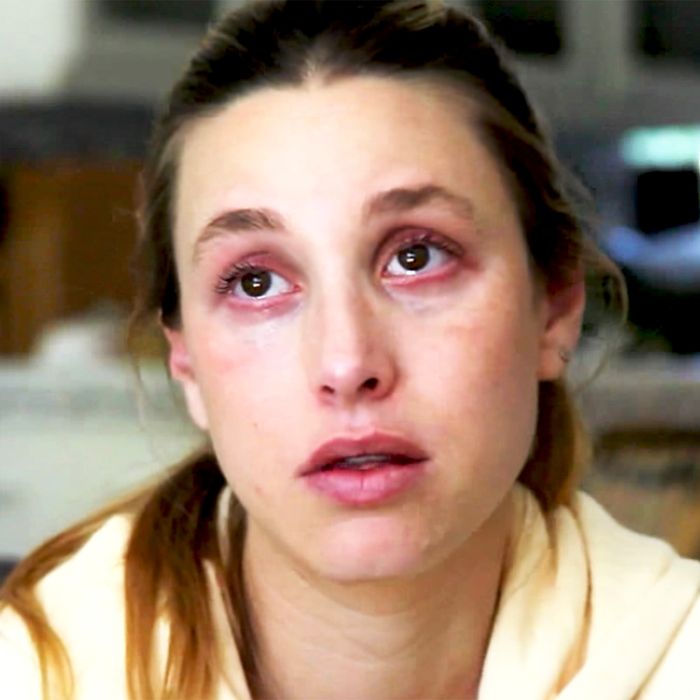 The new mom speaks through tears in a video on her YouTube channel.
Photo: You Tube/thewhitneyport
Hills alum Whitney Port, 32, joins the chorus of women talking honestly about the difficulty of breastfeeding in a new video posted to her YouTube channel.
Port gave birth to her first child — a boy named Sonny — with husband and former Hills producer Tim Rosenman in late July. The reality star has been documenting her experience on her YouTube channel in a series of videos called "I Love My Baby But … " Her latest installment, "I Love My Baby But I Haven't Loved Breastfeeding That Much," is especially candid.
Port tells viewers she was surprised by the pain: "I thought I was doing really well and the nurses there said that the latch was good, and I was like, really surprised. But after about 24-to-48 hours of doing it, I just started to get so incredibly painful, and we came home and I just like hit a breaking point and said, 'I can't do this. It feels like someone's like, slicing my nipples with glass.'"
Wiping away tears, Port opens up about the pressure to breastfeed and her frustration with herself when she had trouble. "I think I'm just tired," Port says, through tears. "And I obviously want to breastfeed. I don't know [why]. I honestly think it's, I guess because that's what people say, like, is the best bonding experience."
Now, she says, she may just "give up" and pump: "I feel like I have sort of demonized breastfeeding in my head, and the thought of doing it is dreadful."
Tune in next week to see what she decides. Watch the full video below.