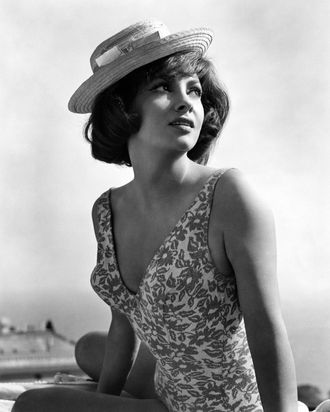 Gina Lollobrigida in
Come September
(1961).
Photo: Courtesy Everett Collection
I'm not the ideal candidate for a Vacation Hat. Vacation Hats are for moms who spend August weekends lounging beachside in East Hampton, sipping green juice and ignoring their kids when they scream they have sand in their eyes. Vacation Hats are for Instagram influencers who jet to Paris for fashion-label launch parties, peony bouquets and Gucci loafers in tow. They are definitely not for college kids like me who recline in sneakers at the South Street Seaport on sweaty summer Saturdays.
And yet, with the purchase of a single vintage hat — wide-brimmed, flat-topped, bow-tied, and 100 percent straw — I have become a Vacation Hat person. I have trekked through airports in the dead of winter looking like a relic from a Renoir painting, determined to keep my hat from getting crumpled in my suitcase while traversing the cargo underworld. It has sat in my lap on ten-hour plane rides; it was once boxed and shipped from New York to Boston when I tragically left for school without it.
Despite all the inconvenience a Vacation Hat entails, its benefits are immeasurable. When I wear my hat, not only do I feel less guilty about forgetting to put on sunscreen, but I am transported to a time of booming leisure, when park picnics and horse races were the weekend sights to be seen; not Whole Foods and Flywheel.
Particularly popular among men in the late-18th and early-19th centuries, the boater hat got its name because it was typically worn by rowers, paired with striped blazers and flannel trousers. Over the years, the hat waxed and waned in popularity but never really went out of style; it was revived in the '60s by women like Audrey Hepburn, who posed in Vogue in 1964 as Eliza Doolittle in My Fair Lady, and Anna Karina, sunbathing in the French Riviera alongside Jean-Luc Godard. The Beatles wore matching boaters with candy-stripe suits on the Night of a Hundred Stars show in 1963, invoking men like Charlie Chaplin, Sammy Davis Jr., and even Theodore Roosevelt. Though it has never been out of the spotlight, the boater hat is now a beloved fashion staple, an essential topper to any easy summer outfit.
Whereas the dandies of yore rocked their boaters with three-piece suits, I like to pair mine with some cat-eye sunglasses, a white tank, and high-waisted jeans, or a loose linen dress (that is, until the beach gets too hot for anything other than a bikini). I proceed to nap, sway, and dive into a good novel, whether under a palm tree or the pendant lights at my local coffee shop.
I will probably always get made fun of by friends for my out-of-place hat, but I will never part with it. Whether in Boston or Tel Aviv, San Juan or Fire Island, the hat has given me so much more than shade.
My Favorite Vacation Hats
If you buy something through our links, New York may earn an affiliate commission.