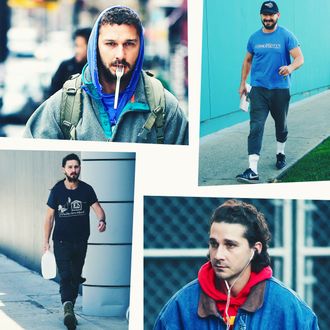 Bobby Whigham started the Instagram account Shia's Outfits in April of this year to collect images of Shia LaBeouf. He has since amassed nearly 10,000 followers, including big-name stylists, editors from GQ and Vogue, and a fashion reporter at the New York Times.
For Whigham, who lives in Philadelphia and works as a creative director at a major retailer based there, it began as a silly side project. "I started it because I wanted it to exist and it didn't already," he says. His friends had been teasing him about his love of Crocs, and he'd argued that both LaBeouf and Alexa Chung were seen in the divisive footwear, giving it instant street cred. Because of his impassioned defense, friends started sending him pictures of the actor, and Whigham saved the images to his phone. "And then I thought, This is like the best Instagram, I need to follow it," he says.
Instagram accounts dedicated to a particular celebrity's style are relatively commonplace, but LaBeouf's quirky way of dressing lacked one, so Whigham started it. On the first day, he dumped 21 pictures: Shia in cut-off shorts, a white sweatshirt, and blue Crocs with black ankle socks. Shia wearing a white race-car T-shirt with a Coors logo tucked into high-waisted gray sweatpants. Shia scowling in a gray Patagonia fleece pullover tipped in aquamarine worn over a hoodie, faded black jeans, and tan lace-up boots. And Shia wearing purple tights and neon shoes with a turquoise hooded sweatshirt.
Two days later he had 3,000 followers.
In our supremely styled world, where celebrities are dressed by professionals for their walk from the car to the airport terminal, and influencers have turned Instagram into a marketing opportunity, LaBeouf's dirtbag aesthetic is refreshingly real. It's the sartorial equivalent of vaping — dirty, ironic, and cool against all odds. Equal parts redneck and hipster, his roughed-up look has captured the attention of menswear fanatics who are tired of high-end styling and magazine-perfect "personal" style.
Part of the look's allure is, no doubt, its unpretentiousness. It's the reason why Highsnobiety and BuzzFeed have both called LaBeouf a "fashion god" and Reddit users create inspiration albums of his looks. "It is very, very effortless," Whigham says. "We've all been hot and needed to cut off a pair of our own jeans, or not had the right footwear so needed to throw on some boots with shorts. I think that he's so confident and isn't really trying."
David Vandewal, a stylist who works with Elle, WSJ Magazine, and Barney's, among others, agrees. "I think he's the answer to real street style," he says. "Everyone is inspired by that look, like they say in French, Je m'en fous: I fucking don't care."
With all the emphasis on personal style by fashion bloggers, Vandewal sees a pointed disparity between the glossy digital images clogging your feed and true authentic style. "Nobody dares to be kooky anymore," he says. "It's almost like there's no room to be. People consume you and try to make you their own. Shia just has style and makes it work with $50 Vans. People walk around with $3,000 outfits and have no style."
Lawrence Schlossman is brand director at Grailed, the community marketplace for buying and selling cult-status menswear. He's been a longtime fan of Shia and sees him as an underappreciated inspiration — though one that's gaining traction beyond insider circles. Schlossman, who was in charge of the influential menswear site Four Pins and still runs its popular Twitter account, says he and his friends semi-jokingly call LaBeouf "the source" — the foundation from which much of menswear's current aesthetic springs from.
"He's the influencer's influencer's influencer," Schlossman says. "It's cool to me that he's the be-all end-all. He is the genesis and creation of the look, but at the same time he kind of knows what he's doing."
Schlossman sees LaBeouf's style inexorably entwined with the major forces dominating the menswear aesthetic right now: normcore (plus its sportier offshoot gorpcore), and the louche militaristic stylings of Kanye West and his line Yeezy. It's easy to see it also as a manifestation of ironic fashion, the style-in-quotation-marks movement proffered by Demna Gvasalia at Balenciaga and Vetements.
"I don't even know if you could figure it out, whether normcore is informed by Shia or Shia is informed by normcore, or some combination of the two," Schlossman says. "You see that Birkenstocks became a fashion item; maybe Patagonia will become a fashion item too. The secret sauce that comes together in the universe — he's part of that, he's a piece of that puzzle. I can't trace it perfectly from point A to point B, but there's some association there."
Whigham agrees, seeing more than just coincidental echoes of Shia's style in Kanye's Yeezy designs: "When Yeezy showed, I could totally imagine that [design] room, what the collection's going to be, what the palette's going to be … and it's all these pictures of Shia in washed-out black denim. I feel like he is very very influential and responsible for that."
And while Shia is often praised for his unpremeditated look, Schlossman points to an interview where the actor reveals it's not all happenstance. "People look at me and they go, 'He looks homeless. He doesn't care.' This took a lot of time," he said during a radio interview with B96 Chicago last year. He continued: "For real. Everybody's got a uniform, you know what I mean? Even though it looks haphazard, it's actually very thought through."
Whigham notes that men are tiring of the overly finessed looks pushed by magazines and social-media types, and this low-key look feels like a break from that. "Here's a dude, he's confident, he's masculine. He dates a model and he's just walking down the street, pumping gas," he says. Whigham also notices that it's oftentimes not just what LaBeouf wears, but how he wears it that makes the most impact. The longer length on a pair of cut-off shorts recently, or the way he steps on the back of his sneakers, are small stylistic quirks that feel individual to his style.
And then there's the idea that Shia has crafted a persona, like James Franco before him, and that there are layers to his appearance, that getting the wink-wink, nudge-nudge satire of his visual appearance makes you part of a bigger in-joke. Earlier this year, LaBeouf unveiled a politically motivated project, and in 2015 he filmed himself watching all of his movies back to back — artistic endeavors that play with the idea of celebrity in culture, and the performative aspect of selfhood. Is his look an affectation? That sort of meta-acknowledgement might make it even more interesting, and, strangely more legitimate, in its way. "Even if he's doing it on purpose, it feels authentic," says Schlossman.
"The romantic version of that is that he's just thrown this shit together and the final product is this amazing trend-creating head-to-toe look," says Schlossman, who also notes that he sees an noticeable uptick in engagement with his Shia-related Twitter content. "Fashion insiders seem to be captivated by what he's wearing and how he's putting it together. Whether it comes from a place of true appreciation or a little bit irony or some combination of both is hard to say. But at the same time, he's clearly making waves, regardless of why. That's something that's interesting to a wide range of people."
Whigham, despite working for a retailer, sees this don't-give-a-fuck machismo as the ultimate selling point in a funny way. "GQ with models jumping in the air on a trampoline saying, these are things you must wear this spring — boat shoes, striped shirts and chinos — it's like, no. Go fucking pump your gas and go to Whole Foods and get the look."