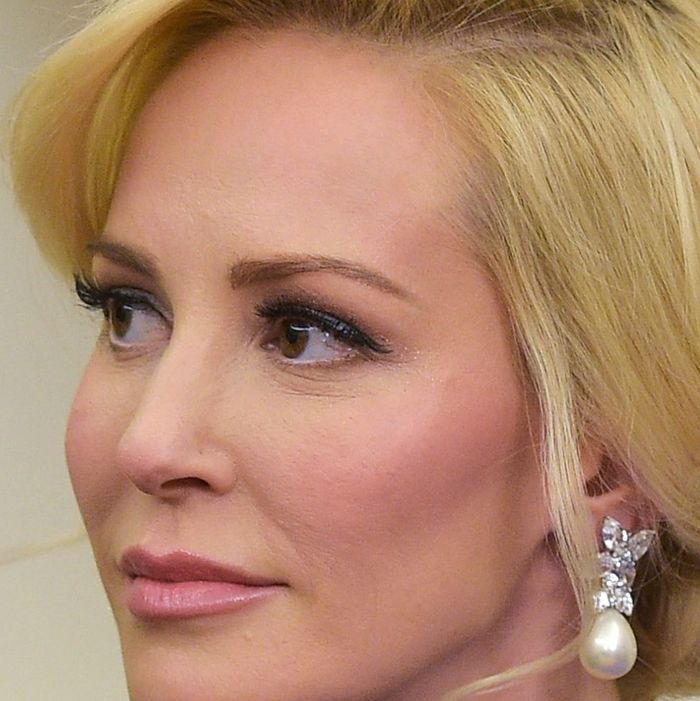 Steven Mnuchin and Louise Linton.
Photo: MANDEL NGAN/AFP/Getty Images
Louise Linton, wife of Treasury Secretary Steve Mnuchin, has made both her Instagram and Twitter accounts private after she was criticized for sharing a picture of her and her husband de-boarding a government plane in Kentucky, and bragging about the luxury fashion brands she was wearing.
"Great #daytrip to #Kentucky! #nicest #people #countryside," Linton wrote, according to a screenshot of the now-private post, before tagging the labels she was wearing "#rolandmouret pants, #tomford sunnies, #hermesscarf #valentinorockstudheels #valentino #usa."
Some were turned off by such an ostentatious display of wealth on a government trip, including one Instagram user who wrote: "Glad we could pay for your little getaway #deplorable."
Linton quickly fired back with a lengthy, angry post in which she wrote:
Aw!!! Did you think this was a personal trip?! Adorable! Do you think the US govt paid for our honeymoon or personal travel?! Lololol. Have you given more to the economy than me and my husband? Either as an individual earner in taxes OR in self sacrifice to your country? I'm pretty sure we paid more sacrifices toward our day "trip" than you did.
After calling the woman "adorably out of touch," and creepily referencing her children, Linton assured her they were both nice people, and encouraged her to watch this week's Game of Thrones. "It's fab!" Linton concluded.
Linton and Mnuchin were married two months ago, in a ceremony officiated by vice-president and wedding-cake-topper figurine Mike Pence. On Monday, Linton was accompanying Mnuchin on his trip to Kentucky, where he went to urge members of Congress to overhaul the tax code, according to the Washington Post.
Although Treasury secretaries usually travel on domestic carriers when flying within the U.S., a spokesperson for the Treasury Department told the Post that Mnuchin's use of a government plane had been approved, and that the couple had covered the cost of Linton's travel. They also said that Linton had not received any financial compensation from the brands she tagged in her post. No word, however, on her Game of Thrones endorsement.
Updated (09/22/17, 9:35 a.m. EST):
Instagram user jennimiller29, the woman whose comment prompted Linton's angry response, replied to The Cut's request for a comment with the following:
Honestly, I was disgusted when I saw her original post with all of the designers listed. She was on a government trip in a government plane paid for by all of us. She was visiting one of our poorest states, and had the audacity to advertise for elite, foreign designers who probably give her things she could afford anyway. I was shocked that she replied at all and even more shocked at how rude and condescending she is. I didn't know who she was other than Mnuchin's trophy wife so I Googled her.




After reading a little bit about her and seeing her nearly pornographic photos all over the internet, I was even more disgusted with her.
Updated (09/22/17, 5:11 p.m. EST):
On Tuesday afternoon, Louise Linton issued a statement of apology through her publicist. Via CNN:
I apologize for my post on social media yesterday as well as my response. It was inappropriate and highly insensitive.