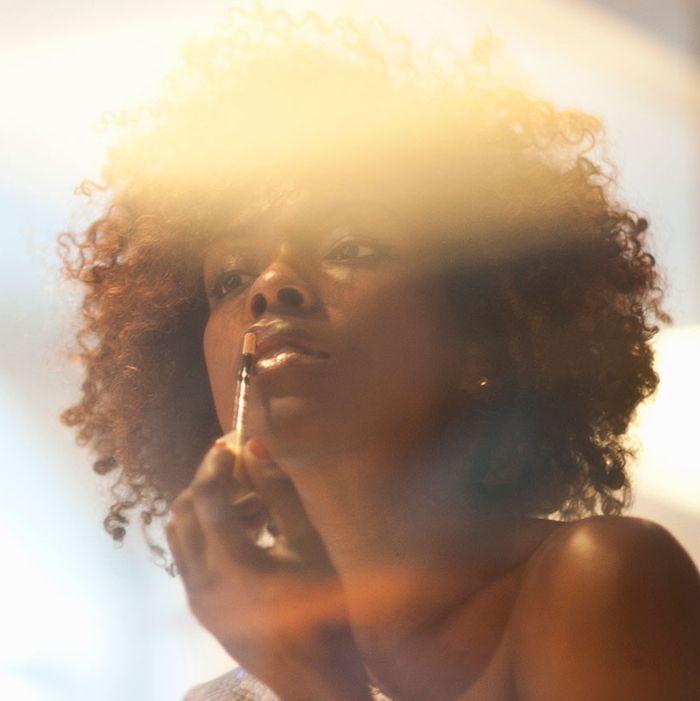 New commentary warns women of color are exposed to more chemicals in beauty products.
Photo: JAG IMAGES/Getty Images
Months ago, an advocacy group cautioned that beauty products marketed to women of color are fraught with harmful ingredients. And now, researchers have added more fuel to that theory, stating in a new commentary that women of color are being exposed to higher levels of toxic chemicals from beauty products in comparison to white women.
In commentary published Wednesday in the American Journal of Obstetrics and Gynecology, researchers noted that black, Asian-American, and Latina women in the U.S. spend more money on beauty products than the national average, since beauty-product marketing tends to perpetuate racist standards of beauty. "Pressure to meet Western standards of beauty means Black, Latina and Asian American women are using more beauty products and thus are exposed to higher levels of chemicals known to be harmful to health," Ami Zota, an environmental epidemiologist at the George Washington University, said in a statement.
Many women of color end up using skin-lightening face creams that contain hidden steroids or mercury, or hair relaxers and straighteners that may contain estrogen, according to the commentary. Furthermore, douching products are often marketed to black women — but these items may contain a harmful chemical called DEP, which can cause birth defects. "Beauty product use is a critical but underappreciated source of reproductive harm and environmental injustice," Zota added.
According to the new commentary, hidden chemicals found in certain beauty and personal-care products have been linked to developmental and endocrine toxicity — which is especially dangerous for women between the ages of 18 and 34. And yet, women in that age group are known to be heavy purchasers of beauty products, and exposure to the toxins can make them and their offspring more sensitive to certain chemicals, particularly if exposure occurs during pregnancy.
The researchers' warning comes on the heels of the Environmental Working Group's December report finding that 1 in 12 beauty products marketed to black women contain harmful ingredients. The report noted that less than 25 percent of items marketed for black beauty pose a minimal threat to women — compared to 40 percent of beauty products marketed for the general public.
The commentary authors suggest health professionals counsel their patients about the potential risk of exposure to hidden chemicals in their beauty products. They also called for further policies to improve testing and disclosure of these toxins.