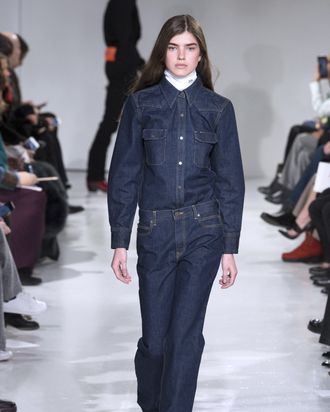 Photo: Courtesy of Calvin Klein
Once in a while, a trend appears on the runway, trickles down to your local mall, and then lodges itself firmly inside your brain. Now Trending is our weekly roundup of where to buy that look that's been haunting you.
Every fall, there are a ton of articles out about new denim, but there's only so many jeans one wears, no matter how many pairs you own. So why not invest in new denim pieces that will actually make your wardrobe interesting — like a streetwear-inspired denim jacket or an off-the-runway Raf Simons Calvin Klein Western denim shirt?
Last Fashion Week, Raf Simons made us reconsider the turtleneck, Westernwear, and faux fur during his debut show at Calvin Klein — but he didn't stop there. Among the classics he placed in a new light was the humble denim shirt, which in his vision is dark and buttoned all the way to the neck. Now that we're entering prime denim season, why not take a page from his playbook and embrace the fabric in its non-jeans form?
Instead of going for classic denim pieces that you've seen a million times before, look for unusual silhouettes and formats, like an oversize, streetwear-inspired jacket or coordinating jacket and skirt. Read on for ten modern takes on denim, from a contemporary and cool Rachel Comey top to a '70s-inspired dress-turned-trench-coat from Marni.
The Runway Look-alike on a Budget
The oversized fit, dark-tinted panels, and uneven hem make this feel like Vetements minus the price tag.
The Turtleneck You Never Knew You Needed
The super-soft fabric won't chafe your neck, promise.
The Vintage-Inspired Pick
It looks especially good with contrasting light jeans.
It's like those matching crop-top-and-pants sets that are still all over Instagram, but for fall.
That cool raw hem would look great with some ankle boots.
The Top You Wouldn't Think to Buy in Denim
A denim halter: How '90s! Layer a bodysuit underneath once it gets cold.
A nice change from all the button-down denim dresses out there.
The One You'll See at Fashion Week
It's not cheap, but you can't deny how chic it looks tucked into the matching jeans.
The Jumpsuit You Don't Have to Think About
The Off-the-Runway Splurge
Is it a dress? Is it a coat? The answer is yes.
If you buy something through our links, New York may earn an affiliate commission.