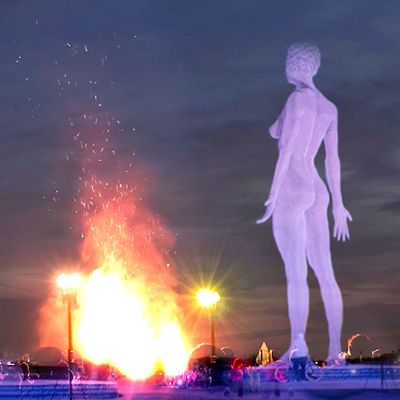 Photo: Courtesy of Catharsis on the Mall
Have you ever wished that Burning Man could happen in Washington, D.C.? Of course you haven't, you're not Grover Norquist. Alas, we regret to inform you, that's the general spirit of a real event — Catharsis on the Mall — entering its third year in November. And this time around, they want to bring a 45-foot-tall statue of a naked woman.
The organizers have since started a crowdfunding campaign for $90,000 to bring the statue, "R-Evolution" by artist Marco Cochrane, to our nation's capital for four months. (The statue was previously displayed at Burning Man in 2015.) In the video created for the campaign, various people involved explain why they want this to happen. Some highlights include:
"She's asking for equal rights."
"We need a huge symbol on the National Mall."
"Calm, loving energy is really important in the world."
"There's so much beautiful energy out at Burning Man, and we're just resurrecting this amazing energy right here."
If all goes as planned, Beltway Burning Man will solve gender inequality once and for all from November 10 to 12.