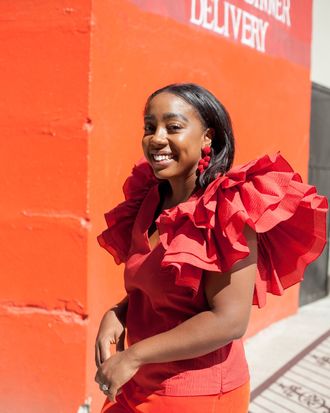 A series examining the outer edges of style.
For me, the color red is always trending. It's my favorite color, my signature shade, the hue that makes me feel most like myself. So when it started appearing all over the fall 2017 runways, I was thrilled. Looking at the monochromatic red looks at Max Mara, Givenchy, and Jil Sander, I knew I had to try them for myself. It might seem excessive to wear the same color head-to-toe, especially when it's something as bold as primary red, but it's easier than you'd think. Scroll ahead to see five ways to wear the trend IRL.
Photo: Andre Wagner
A silky slip-dress contrasts nicely with a knit sweater. Of the five outfits I tried, this was my favorite because it's just a bundle of contradictions: high and low, cozy and sleek, summer and winter. The juxtapositions are what make it work.
Photo: Andre Wagner
They may have seemed crazy on the runway, but these Prada feather shoes were showstoppers on the street — I couldn't take a picture without someone commenting. The length on the ruffled cocktail dress is perfect because it gives the shoes some space.
Photo: Andre Wagner
Layering in one color is harder than it looks. The key is to pick one focal piece and build an outfit around it. I started with the H&M coat since it's such a steal, then looked for pieces in other lengths and textures. The A.W.A.K.E. wrap-blouse is a thinner material so it paired well with the thick cropped trousers. And those glossy ankle-boots are, as they say, the cherry on top.
Photo: Andre Wagner
If you work in a creative office, try an all-red outfit topped with a blazer — the international symbol of a woman who means business. In my opinion, this Tommy Hilfiger version is worth every penny for its vintage-inspired silhouette and sharp tailoring. But this would work just as well with a slimmer, less pricey jacket, too.
Don't Be Afraid of a Statement Top
Photo: Andre Wagner
See how big those ruffle sleeves look in the photo? They're bigger in person. This Rosie Assoulin top is a good reminder that sometimes, more is more.
If you buy something through our links, New York may earn an affiliate commission.