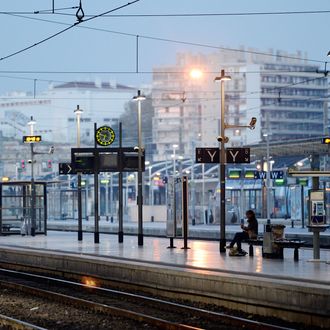 The Saint-Charles Station in Marseille, France.
Photo: ANNE-CHRISTINE POUJOULAT/AFP/Getty Images
Four American college students were attacked with acid in Marseille, France on Sunday by a 41-year-old woman described as "mentally unstable."
The victims — Courtney Siverling, Charlotte Kaufman, Michelle Krug, and Kesley Koston — are all juniors at Boston College who are studying abroad. The former three are in a program in Paris, while Koston is in Copenhagen, Denmark. The attack occurred at the Saint Charles train station around 11 a.m.; they were treated for their burns at a local hospital and released the same day.
Per a Boston College statement, "the students say they plan to remain in Europe for their studies, and offered forgiveness to the woman who sprayed them with an acid solution outside of the train station in Marseille on Sunday."
Police are not considering this a terrorist attack.