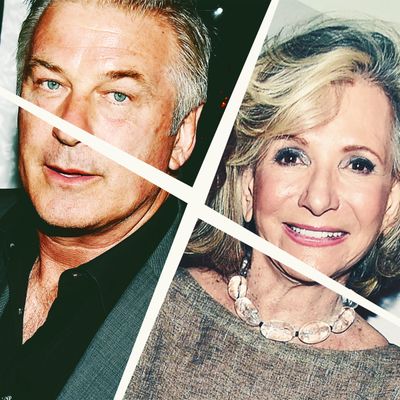 Alec Baldwin, Sheila Nevins.
Photo: Getty
HBO Documentary Films president and producer Sheila Nevins recently appeared on Alec Baldwin's WNYC podcast Here's the Thing, and the interview took an unexpected turn: The actor talked about her "wonderful eyes" and imagined her kissing someone in a bathrobe on a terrace in Paris.
As "Page Six" reports, Nevins — who has overseen acclaimed documentaries Citizenfour and Going Clear: Scientology and the Prison of Belief, among many others — stopped by Baldwin's program to discuss her best-selling book You Don't Look Your Age … and Other Fairy Tales. But while interviewing her about the book — and after Nevins talked about the sexual harassment she's endured — Baldwin called 78-year-old Nevins "the Jewish Eve Harrington" and said, "You've got those wonderful eyes."
Per "Page Six":
"You went to Barnard and you went to Yale, and you've had this great career, and you've won all these awards. Your name is synonymous with the highest level of documentary filmmaking over the last 35 years," he gushed.
But he then oddly segued into, "There is this 'woman' thing about you . . . and you look phenomenal, by the way. There's this thing about you: You bathe in this world of the stark and the real, but there is a part of me that [thinks] you want to be in love again. I see you in a bathrobe on a terrace in Paris, and you're just having the longest kiss in the world. Is that what you want?"
Nevins, who has been married since 1972, replied, "I think that's what you want. I don't want to be in a bathrobe on a terrace. I want to make the best documentary in the world. That's it." Baldwin then laughed and said, "I just offered you love, romance, bathrobe, Paris! And you'd rather make a documentary?" He added: "That's why you're the greatest."