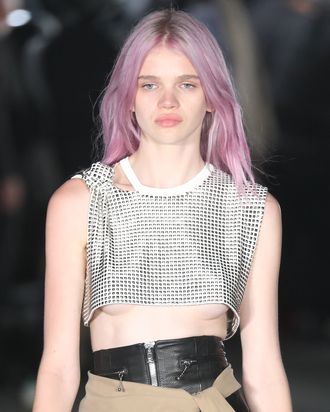 Photo: Antonio de Moraes Barros Filho/FilmMagic
This season, Alexander Wang is thinking angry pink. For his show tonight, one lucky model was given a mash-up of four different hair colors inspired by pink-haired Kate Moss in the '90s. "It's Berlin, and a little angry," said Josh Wood, the colorist and Redken's Global Color creative director, who spent eight hours perfecting the shade on model Stella Lucia.
With photos of Moss, "Alexander [Wang] showed me exactly what he wanted," Wood said. "It wasn't a rose pink, it was a violet-y fuchsia pink." The highly specific hue of Wang-meets-Moss pink lacks the cloying sweetness of sugary pink or even the irony of this year's favorite pink, millennial pink. It's lighter than the cover of Sweetbitter, more dimensional than Glossier pink, less punk than Gwen Stefani pink, and has more depth than the Pantone-anointed Rose Quartz pink. It's like My-Little Pony-with-some-issues-pink. Wood described it as "glamorous angst. It's a color that can't be created by nature. There's something almost manufactured about it, it's a brave color."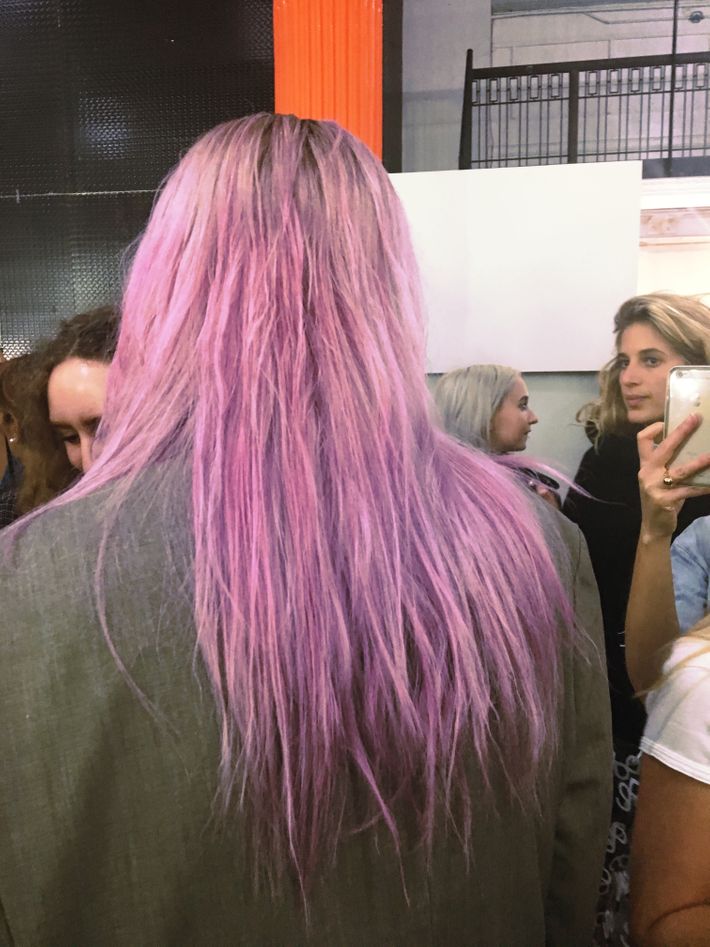 To achieve the fully expressed hue, Wood used a unique layering colorization method that would allow four shades of color (bleached white, grey, violet, pink via Redken's City Beats and Shades EQ) to appear on the hair at once. One shade was applied over the other, with conditioning treatments like Redken's Heat Cure and Extreme in between each one so that Lucia's hair didn't break off. "The layering makes it look a little softer and suitable. The idea is that the color is dramatic, but it isn't so obvious," Wood explained. Hairstylist Guido Palau kept the hair mostly un-touched but used a GHD Classic Curl Iron to add some texture to the hair.
Other Wang models like Kendall Jenner, Joan Smalls, and Candice Swanepoel were merely given light-pink blush. Lead makeup artist Diane Kendal rubbed cheekbones with Luster, an apricot-pink shade of NARS Cosmetics Liquid Blush, as well as a new highlighting powder due out next year. The result was a more polished look than seen in previous years.
Lucia's hair was designed to stand out. "The focus was all on Stella. She is the embodiment of telling this particular story. In a sea of natural, this is someone that has got this very direct and precise color." Kay Thompson would surely approve.