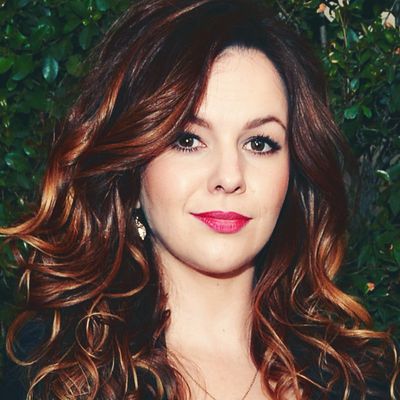 Amber Tamblyn.
Photo: Alberto E. Rodriguez/Getty Images for WGA
In advance of tonight's Emmy awards, actress-director Amber Tamblyn wrote a powerful Op-Ed for the New York Times, in which she expresses how tired she is of women not being believed when they report sexual violence and harassment.
Tamblyn has written about her own experience with sexual assault, and in the Times piece, the actress discusses her own experience with sexual harassment when she was working on a television show at age 21. She writes:
"A crew member had kept showing up to my apartment after work unannounced, going into my trailer while I wasn't in it, and staring daggers at me from across the set. I liked him at first. He was very sweet and kind in the beginning. We flirted a bit on set. But I was in a relationship. And liking someone certainly didn't merit the kind of behavior he was exhibiting, which was making me feel unsafe."
When she told one of the producers what was happening, instead of believing her, he told her: "Well, there are two sides to every story."
"For women in America who come forward with stories of harassment, abuse and sexual assault, there are not two sides to every story, however noble that principle might seem. Women do not get to have a side. They get to have an interrogation. Too often, they are questioned mercilessly about whether their side is legitimate. Especially if that side happens to accuse a man of stature, then that woman has to consider the scrutiny and repercussions she'll be subjected to by sharing her side."
The piece comes after a Twitter exchange between Tamblyn and actors Armie Hammer and James Woods. Hammer's new film, Call Me by Your Name, features a relationship between a 24-year-old played by Hammer and a 17-year-old played by Timothée Chalamet.
In a tweet, Woods suggested the age difference was indecent, and Hammer pointed out that Woods frequently dates younger women. Tamblyn added that Woods had tried to pick her up in Las Vegas when she was 16. Woods responded and called Tamblyn's account a "lie." (She later posted a text with a male friend confirming her story, and last week she wrote an open letter to Woods on Teen Vogue to address what she's now calling "Woods Culture."
Read the full op-ed here.