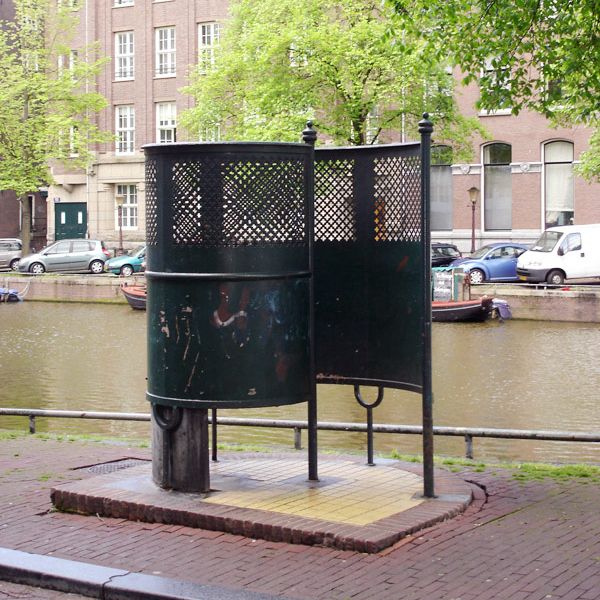 A urinal in Amsterdam.
Photo: Courtesy of CC/Flickr/tommb
Activists in Amsterdam were set to host a rally on Friday to protest a male judge's assertion that a woman who was fined €90 ($105) for peeing in an alleyway should have just used a men's public urinal instead. Yet, the event — which called for women to pee in a urinal in the city center — had to be canceled after too many women wanted to attend.
Two years ago, Geerte Piening, 23, had to use the bathroom after a night of drinking in Amsterdam. But because the city has 35 (yes, 35) public urinals for men and only three public restrooms designated for women, she was more than a mile away from the nearest women's toilet. So, as the BBC reports, Piening decided to pee on a quiet street while her friends kept watch. She was promptly caught by three police officers.
Rather than sympathizing with her need to pee, a judge on Monday fined Piening and told her that she should have used one of the male facilities rather than urinating in public. The judge even went so far as to suggest that her actions were akin to tossing litter on the street rather than a nearby trash bin, according to the BBC.
The male judge's remarks promptly sparked outrage from women, who decried the city's lack of facilities. "Isn't it embarrassing for a tourist city like Amsterdam that women have nowhere to go?" Piening told the AD newspaper, per the BBC. "It wasn't my intention that this would become an enormous feminist thing. On the other hand, it's good it's being addressed."
A Facebook page for a protest soon popped up — with the organizer calling for women to stop by the city center on Friday and pee in a public urinal. The goal was to show the judge how how absurd it is to expect women to crouch "with my buttocks protruding under the edge while half-drunk," organizer Cathelijne Hornstra wrote. However, Hornstra ended up canceling the Friday event after more than 9,000 women said they were interested in showing up.
"The overwhelming interest means we have grown too big," Hornstra said. "We can't fit all the women who said they would come on that one spot."
Women are now instead being encouraged to host mini-protests of their own at the city's 35 public urinals, and to upload the pictures online with the hashtag #wildplassen (which means "public urination"). Hornstra also indicated on Facebook that she was trying to plan a different event for Saturday instead.