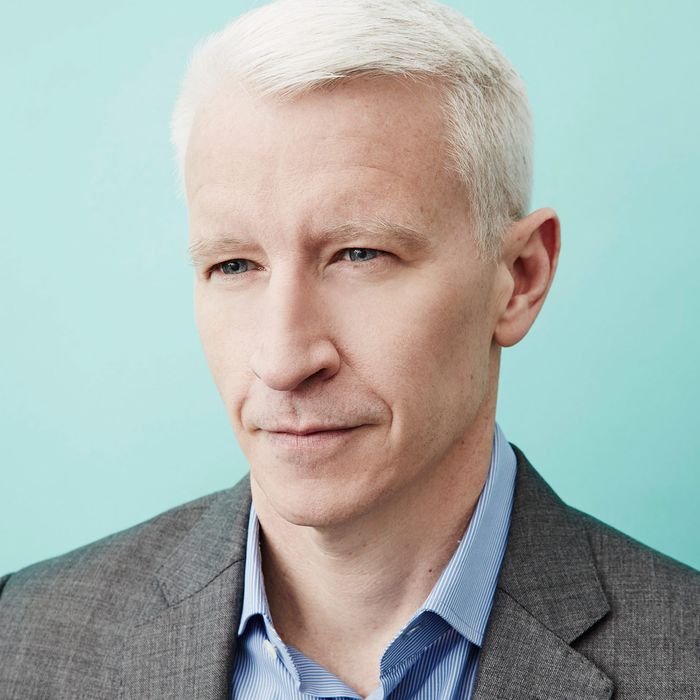 Anderson Cooper.
Photo: Maarten de Boer/Maarten de Boer
Fun Rumor: Because even when gossip isn't true, it sure is fun.
A new rumor to surface out of Milan Fashion Week might be the best gossip of the week: What if Anderson Cooper were the next editor-in-chief of Vanity Fair?
Crazy, right? A pseudo-celebrity journalist with no print experience like Cooper has never really been at the helm of a major magazine. Cooper also seems to be pretty content in his current job as an anchor and reporter for CNN, which he's been doing since 2001. (We also really need him there right now.) But let's entertain this idea for a hot second.
Even if Cooper is a television guy, he's been in the business of journalism since the early 1990s — and he's proven to be very good at it. As for fashion journalism, he made an appearance in Harper's Bazaar as a baby, and modeled for Ralph Lauren, Calvin Klein, and Macy's from age 10 to 13. Surely that counts for something? Plus, he's a Vanderbilt. Cooper's mother, Gloria Vanderbilt, has appeared in the pages of Vanity Fair numerous times, and is a writer, artist, and fashion designer herself. She's also an avid Instagram user; digital integration runs in the family!
Finally, Anderson Cooper is one of the most charismatic people on the planet, which is a big part of being a good editor-in-chief of Vanity Fair. Not only does he have strong relationships with a huge number of celebrities, politicians, and industry icons, but he's also arguably one of the most trusted men in American broadcast journalism right now. Talk about pivoting to video.
As much as we love this rumor, it's hard to believe is that Condé Nast would be able to pay the high salary Cooper would most likely require. It's been reported that Cooper currently makes $4 million a year, which is about twice what Graydon Carter was making. And Condé has been undergoing cuts lately.
Perhaps more interesting than imagining the wild possibility that Cooper would take over Vanity Fair after Graydon Carter is imagining what this would mean for magazines. Following the recent departures by Robbie Myers at Elle and Cindi Leive at Glamour, some joked that Instagram influencers would be the next magazine editors. But maybe someone like Anderson Cooper is the best version of this. He's got a social huge following (1.3 million on Instagram and 9.54 million on Twitter), and he simultaneously knows what he's doing while also offering a fresh take on things. Imagine. Imagine! Andy Cohen could be on the cover. Or maybe Andy Cohen could do features. Whatever, Andy Cohen, you're hired, too! And Jon Stewart. And Kathie Lee and Hoda.
More likely candidates for the job include Janice Min of The Hollywood Reporter-Billboard Media Group; Jim Nelson of GQ; and Jay Fielden of Esquire. But do any of those names get you as hyped up as Anderson Freakin' Cooper? No! Let's do something fun, nerds.
This probably won't happen. But if it does, we told you so.