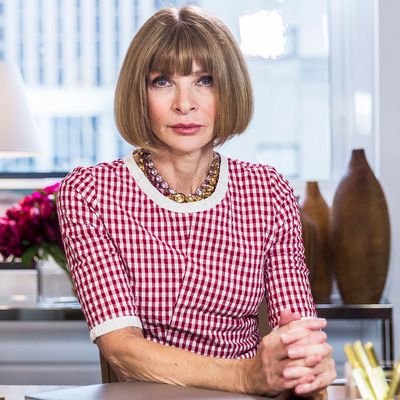 Anna Wintour.
Photo: Lloyd Bishop/NBC/Getty Images

Welcome to Extremes, a series examining the outer edges of style.
Back in 2012, the Cut asked a handful of men and women to share what they wore to the most extreme interview scenario ever: a one-on-one with Anna Wintour. This was before The First Monday in May, but after The Devil Wears Prada; before Vogue.com swallowed up Style.com; and before your Instagram and Twitter could get you your job (or cost you your job). As a figurehead, Ms. Wintour was still shrouded in an Oz-like sense of mystery and fear. Information about what went on at her desk, behind closed doors, felt as hard to come by as an Hermès Birkin.
Five years later, times have changed. Wintour can be found dancing at the Met Gala, paling around with the Kardashians, cracking jokes, and even getting her own coffee. (Sometimes.) This makes interviewing with the Vogue editor-in-chief no less terrifying, but it may mean that it's perhaps easier to prepare. Now, we know she hates all-black and is okay with hoodies — if they're Hood by Air. She loves Chanel, but apparently won't wear Dries Van Noten. This is all to say: Everyone we spoke to got the job.
Of course, there are people out there who've interviewed with Anna Wintour since 2012 and not gotten a job at Vogue. But their scarcity may mean that there's no such thing as a bad interview outfit anymore. Maybe there are also more jobs to be had, now that Vogue.com is it's own behemoth operation. Or, perhaps the vetting process has gotten more thorough. One former staffer told us that meeting with Anna Wintour today is merely a formality.
What hasn't changed, however, is that people are still spending just as much time thinking about their outfits, whether or not Anna Wintour is still scrutinizing them. Below are ten that got the AWOK.
The Person Who Wore Knockoffs
I wore an Isaac Mizrahi dress that I bought at the Barneys Warehouse sale and a pair of Nine West ankle-strap heels, that were basically Tom Ford for Gucci knockoffs, which cost $30. As for why I wore that dress? It was the '90s; there's little explanation as to why we wore half the stuff we did. (Helmut Lang aside). I also had NO MONEY. (It wasn't a job prerequisite at the time.) I really didn't think I had a shot, so I wasn't about to put myself in debt at Bergdorf Goodman. I just tried to look as much like her as possible. All of my editor friends at the time were all dressing like mini-Anna's, and I just made myself look as though I already belonged in the cult.
I got the job that same day. Who knows what she thought of the look; she wore her sunglasses the whole time.
The Person Who Spent $400 on Pants
It was my sixth and final interview at Vogue, and I had worn all-black for every interview up to that point, so I figured I should stick with what was working. I went to Barneys and told the salesperson that I was interviewing with Anna Wintour(!!!), and he helped me find a pair of black, slim trousers from Vince, which I paired with a black, silk button-down shirt from J.Crew and fuchsia pumps from Zara. (The pants cost like $400, which was WAYYYYY more than I could afford. But, I guess they were worth it. I still have them.)
Fortunately, HR let me stash my Longchamp bag and puffer coat in their office. The interview lasted all of four minutes, and she gave me the full once-over before showing me out. Later, I learned that she hates black.
The Person Who Bought a Dress, Then Returned It
I was told that I absolutely, definitely had to buy a new outfit. "Current season," my stylist friend stressed. I went to Barneys on a snow day and tried on numerous dresses from Altuzarra, Dries Van Noten (even though she "hates" Dries, I was told), and Proenza Schouler. The Proenza dress ended up being the best option, although it wasn't warm at all.
"You must wear new shoes," someone else commanded. I bought a pair of Gianvito Rossi pumps from Bergdorf Goodman that were fine.
The day of the interview was a terrible blizzard, and Anna Wintour did not cancel. I wore a huge puffer coat, a giant bubble umbrella to protect my face and hair, and gigantic and hideous Sorel snow boots that gave me dinosaur feet. I changed my shoes in the lobby, and an assistant mercifully took my snow gear from me to store in the closet.
The interview was pleasant and fine. My dress ended up being a hit, as Anna Wintour complimented me on it at the end of my interview. "Is that Jack and Lazaro's?" she asked. "It's lovely." I later returned it.
The Person Who Thought "Boring" Was Best
It was winter in New York City, so it was difficult to find something both seasonally appropriate and fashionable for my interview. I decided on a dress I already owned: a dark-green Jil Sander shift dress with black tights and Yves Saint Laurent pumps. Since I was a recent college graduate who had never worked in a corporate environment, I decided to get a blowout that morning, instead of my routine messy, beachy waves. My outfit was ultimately quite boring and didn't reflect my androgynous, eccentric aesthetic. Nevertheless, I was keen to impress Anna, and did my best to look professional and polished.
The Person Who Borrowed Money From Their Mom
I interviewed twice. First for an assistant position, and second to be an editor. For the first interview, I straightened my hair and wore black, wool Club Monaco wide-legged trousers, a cream, vintage Gunne Sax
Victorian-like lace top, with maroon, pointy-toed d'Orsay high heels by Balenciaga. I bought the shoes for the interview, and I think that was the last time I ever wore them because they were so high and
uncomfortable. But I knew I needed something to pull it all together, so I borrowed money from my mom and splurged on them. Overall, it was the chicest, simplest outfit I could pull together on my teeny little salary.
For the second interview, I straightened my hair again, and since I had already been working there for a bit, I had accumulated a lot of higher-end stuff. Chanel used to do these sample sales for editors — I
scored big time. I wore a very "Chanel" blouse — lilac-and-gray silk — superhigh collar, buttoned down the back, with a black, silk ribbon tie at the neck. (The bow came out of the back of the collar.) I wore that with slim, black, wool Stella McCartney trousers, and a pair of black, silk round-toed pumps.
I wore what I was comfortable in; that's how I really dressed. I knew Anna would recognize the top. She seemed really pleased that I was wearing
Chanel, so I was pleased that I was wearing Chanel.
The Person Who Avoided "Frilly BS"
I wore a navy suit, a blazer with high-waisted pants, and a brown belt with silver accents that kind of looked like ammunition. I was 22, and I wanted to look like I had my Tonne Goodman–esque uniform already: vision and wisdom, and no time for frilly BS. I borrowed a pair of new runway Givenchy heels from a friend. Not comfortable.
The time in her office is a blackout. She said, "Tell me about yourself." Who knows what I actually told her about myself. I knew nothing. I faintly remember that when I told her who I admired at the magazine, she was surprised. I interviewed to be Anna Wintour's assistant, and by some grace was rerouted and considered for an editorial position instead.
The Person Who Accidentally Wore All-Black
When I interviewed to be Anna's assistant, I had already met with, I don't know, six other people at Vogue, including two of her assistants (i.e., my future comrades). Somehow, none of them saw fit to tell me about the no-head-to-toe-black rule, so I ended up in opaque black tights, black high-heeled boots, a navy, wool Valentino miniskirt I had purchased at T.J. Maxx, and a black, cashmere cardigan of my mother's that I wore backward in a poorly thought-out expression of "individuality" and "coolness."
I tried to dazzle Anna by telling her I was in a book club, and we talked about books for a hot second. The whole thing lasted perhaps five minutes. It was only later, after I had gotten the job, that I learned how utterly boring, lazy, and lackluster all-black (or, okay, mostly black) really is.
The Person Who Interviewed the Day After Graduation
I found out that I got the interview right before I walked in my college graduation. My entire family was in town. I was staying with my parents in their hotel room, and I was in the middle of moving apartments, so all my things were in boxes with the movers.
I went in to meet with Anna the morning after graduation. Needless to say, I didn't have much time or ammo to prep a dream outfit, but I knew that I needed to look the part. Luckily, my parents were in town, and my mom is chic and the same size. Major shout-out to mom because she let me ravage her overpacked suitcase. I wore her vintage Gucci silk blouse with a white Diane von Furstenberg sleeveless, A-line dress over it. I also wore my mom's Prada heeled booties. I brought a no-brand leather backpack with me, which the assistants took from me as I walked into her office.
The interview went well. She even congratulated me on my graduation with a smile.
The Person Who Wore an Icy Hot Pack Under Their Erdem
I didn't buy any new clothes for the interview. I don't really believe in buying new clothes — especially expensive clothes — when you feel insecure. You should shop when you're happy. I already owned the Erdem dress I wore that day (it was above-the-knee, which was perhaps a little risky, yes, but it was also summer, and I like my legs). My boyfriend at the time had bought it for me a few months prior. I knew Anna liked floral prints, and I thought, Why not go with an emerging British designer AND a floral print? Plus, Erdem is one of the nicest humans working in fashion, ever. Good juju. The Louboutins were fairly inconspicuous — gray suede, not a crazy heel, something that would make me feel stable. I got a pedicure, even though the shoes were closed-toed, because I always believe you should go into a big interview as if the person has X-ray vision; if she saw you naked, you'd still look impeccable from head to toe. My blowout was on the advice of a Vogue girl. When in doubt, get a blowout. And I wore barely any makeup.
The funniest part was that I had thrown my back out the day before in yoga, and I had taped a hot/cold pack to my back. I was so worried she'd notice!
The Person Who Didn't Know They Were Being Interviewed
When I interviewed with Anna Wintour, I had one thing on my mind: For the love of God, don't trip. This presented a bit of a predicament because I was well aware of Wintour's penchant for Manolo Blahnik and my penchant for falling over.
I was a longtime intern and recently hired assistant up for a promotion, and I actually didn't know I would be called into her office that day. Luckily, I was pairing a bit of high with my standard low: Helmut Lang tuxedo trousers nipped at the waist, and a Peter Pilotto for Target silk floral blouse with sleeves rolled just so. It sounds hideous in retrospect, but it was actually chic as hell. If I were Hamish Bowles, I suppose I'd be able to do it justice in written form, but alas.
Anyway, when I got the call that I was meant to meet with Anna, I looked down at my outfit in disbelief and was met with a terrifying realization: I was wearing flats. And not like Audrey Hepburn or Tonne Goodman flats. Like the kind of flats you need when you have 15 minutes to run to Prada and back before the run-through. I figured I had at least a split second to book it to the closet and find a solution.
I managed to make a few friends in the fashion department, and they all made it their business that I looked the part. The Devil Wears Prada got a lot of things wrong, but you know that part where Stanley Tucci grabs a pair of stilettos and forces them on a cowering and confused Anne Hathaway? That part is pretty true to life. For me, they were the dreaded size 41, classic black, suede 105 mm Manolo pumps. I tripped on the way in, but I walked out with a job.
These interviews have been edited and condensed.