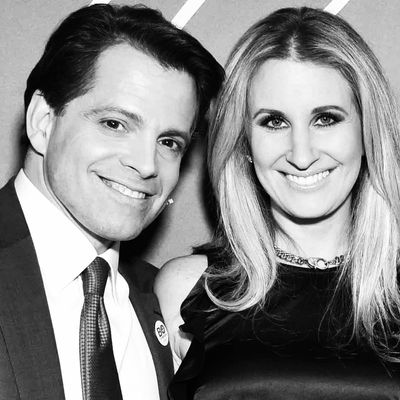 Anthony Scaramucci and his estranged wife Deidre Ball.
Photo: Jared Siskin/Jared Siskin/PMC
Former White House communications director Anthony Scaramucci has reportedly dropped his paternity test request for his newborn son with estranged wife Deidre Ball. According to "Page Six," Scaramucci is no longer contesting that he is the 2-month-old's father.
Shortly after Scaramucci's unhinged New Yorker rant was published in July, news broke that Ball, his wife of three years, had filed for divorce when she was nine months pregnant. Ball gave birth to a son, James, in late July — though Scaramucci did not meet the baby until six days after he was born, opting instead to text his wife, "Congratulations, I'll pray for our child." By mid-September, "Page Six" revealed Scaramucci was demanding a paternity test to determine if the child was his.
However, as Scaramucci and Ball appeared in court for divorce proceedings on Tuesday, a "source" says that the Tom Brady gossiper had dropped his paternity request. But neither party seemed particularly pleased during the ten-minute hearing — Scaramucci reportedly had his head in his hand at one point, while Ball appeared "tense," "Page Six" noted.