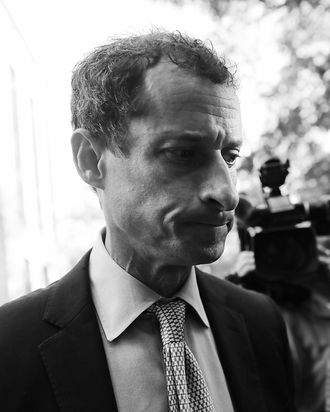 Anthony Weiner.
Photo: Spencer Platt/Getty Images
Former Democratic congressman Anthony Weiner was sentenced to 21 months in prison on Monday, the Associated Press reports. He was also ordered to pay a $10,000 fine, have zero contact with his victim, and, after serving his time, enroll in a sex-offender treatment program and subject himself to internet monitoring.
In May, Weiner pleaded guilty to one charge of transferring obscene material to a minor following reports that he had sexted with a 15-year-old girl. Among their communications, according to prosecutors, was Weiner asking "her to engage in sexually explicit conduct via Skype and Snapchat, where her body was on display, and where she was asked to sexually perform for him." They requested a sentence of 21 to 27 months, while his camp attempted to argue that he was being rehabilitated and requested probation.
Weiner's sexting habits first came to light in 2011, when he accidentally tweeted out an explicit photo of himself. He resigned from his congressional seat in the fallout, and, a few years later, he attempted a mayoral run, in which he was the front-runner until yet another scandal broke. (It was also revealed that he was using the sexting nom de plume "Carlos Danger.")
The underaged sexting case is also linked to an FBI probe mere weeks before the 2016 election: James Comey reopened the case of Clinton's private server after reportedly discovering emails on Weiner's electronic devices, which had been seized after there were claims that he had engaged in illicit communication with a minor.
Weiner is ordered to report to prison on November 6 to begin his sentence.