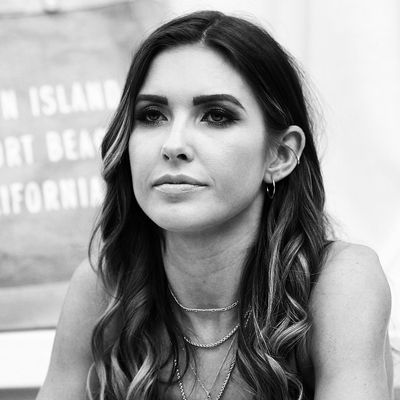 Audrina Patridge.
Photo: Tommaso Boddi/Getty Images for Fashion Island
After ten months of marriage, Hills alum Audrina Patridge has filed for divorce and for a restraining order against her husband, professional BMX rider Corey Bohan, People reports. In the filings, which were both submitted to the court on September 18, Patridge details a number of incidences in which she claims Bohan was emotionally abusive and violent.
A source told People that Patridge submitted both filings on the same day "because she was afraid how he would retaliate when she filed for divorce, so she had to get some additional protection."
According to court documents, on August 16, Patridge says Bohan was being "very aggressive" with her, following her around the house, and demanding to know whom had told Patridge that he cheated on her with another woman. When Patridge became frightened and asked to take their 1-year-old daughter, Kirra, to her grandmother's house, Bohan reportedly threw her bags on the floor before "punching and hitting himself on the head" and punching a hole in the couple's bedroom wall. As Patridge made her way downstairs, Bohan allegedly grabbed a large metal canister and threatened to smash his own head with it "in the street so everyone could hear that it was all my fault."
When Patridge returned to their home on August 22 in order to "make things better," she says Bohan admitted to ransacking her belongings, and berated her in front of Kirra. Finally, Patridge called the police and filed a report against her husband.
"I am fearful of [Corey's] temper because he cannot control his swearing and personal attacks on me, even when in the presence of our young daughter," Patridge wrote.
Patridge has reportedly been granted the restraining order, which requires Bohan to stay 100 feet away from her, Kirra, and their Yorkie, Lady, except during Bohan's supervised visits with Kirra three days a week.