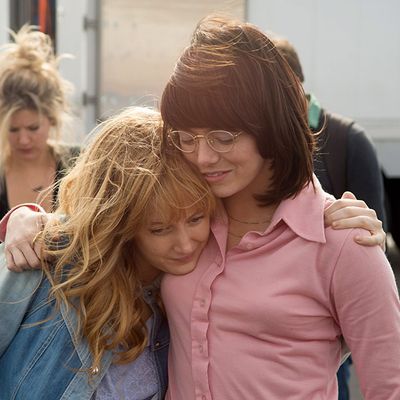 Battle of the Sexes is not the movie you expect it to be. The trailers largely frame it as a sports showdown, re-creating the historic 1973 tennis match between Billie Jean King (Emma Stone) and Bobby Riggs (Steve Carell) — a pop-culture event that pitted female competence against male chauvinism and entrenched patriarchy (ring a bell?). And yet the film's emotional core, and the thing the filmmakers take the most care with, is the illicit love affair between Billie Jean King and her hairdresser, Marilyn Barnett (Andrea Riseborough). Battle of the Sexes wants to canonize Billie Jean King as a feminist crusader and LGBT icon in equal measure, and it does so by telling an intimate story about the challenges of queer love in an age that forbade it.
Screenwriter Simon Beaufoy, who wrote films such as The Full Monty and Slumdog Millionaire, says that he always knew that King's inner struggle was where the true story would lie. "What fascinated me about this story is that while there was this very binary, almost cartoonish man versus woman battle going on, there was an internal battle going on inside her: the fact that she was married to this lovely guy that she loved [ex-husband Larry King], but was gay and having an affair with Marilyn and couldn't talk to anyone about it," he tells me on the phone from London. "This was sort of way more serious than the sort of obvious battle that was going on in the public eye."
From the very beginning of his writing process, tennis always felt a little bit besides the point (sorry, sports fans). "Billie Jean always gives me tickets to Centre Court and Wimbledon, but I just go and drink Pimm's," Beaufoy says with a laugh. "It's the politics and the sexual politics that interested me." Or, as co-director Jonathan Dayton tells Kyle Buchanan, "We love tennis, don't get me wrong, but it was the love story that drove [me and partner Valerie Faris] to make this."
The film chronicles the events leading up to the famed Battle of the Sexes match in 1973: Billie Jean and other top women's players boycotting a major tennis tournament in order to campaign for equal prize money; retired champ Bobby Riggs's realization that he could regain the public spotlight by using misogyny as his platform. But it spends just as much time dwelling on King's private life, as she meets and falls in love with Marilyn on tour. While it's not a spoiler to say the end of the movie is triumphant — she wins the match and takes down the big bad misogynist — King's victory is punctuated by an emotional scene where she sobs in her dressing room, knowing that while she may have won this battle on the court, it will probably be a long time before she is free to be who she really is. "Times change," encourages her friend Ted Tinling (Alan Cumming), a tennis player turned fashion designer who was also openly gay. "You should know. You just changed them. Someday we will be free to be who we are and love who we love."
As Beaufoy points out, when the news of King's sexuality did eventually come out — she was outed by Marilyn in 1981 as the result of an ugly palimony lawsuit — she lost all her endorsements and sponsorships. "It was a dilemma at the heart of her, and a very private dilemma," he says. "The dilemma was in being trapped in a marriage that she didn't want to be in, and yet she loved the man, and then suddenly every camera in the world, certainly in America, turned and looked at her. Ninety-two million people watched that tennis match. So at a time when she's in an incredibly private, intimate, difficult place, wrestling with these huge issues about who she was, suddenly everyone was staring at her. To me, that was such an interesting place to write about."
Beaufoy recalls that when he was writing the script, King would read drafts of it at her kitchen table, and she would often have to put the script down mid-read because it was so painful — in particular, the thought of betraying her husband. "It doesn't matter if you're gay or straight — I was doing the wrong thing, and I knew it then and I know it now," he recalls her saying.
LGBTQ representation at the multiplex remains an uphill battle. Despite Moonlight's historic Oscar win last year, according to GLAAD president Kate Ellis "the bars are not being moved" when it comes to LGBTQ representation onscreen, and "major releases continue to lag behind the groundbreaking stories we see in independent films." According to GLAAD's recent report on LGBTQ representation in film, only 18.4 percent of the top 125 films of 2016 contained a gay character — a number that has barely increased since 2015 — and gay men made up 83 percent of the onscreen portrayals as compared to gay women.
Yet despite having a long way to go, Beaufoy says he experienced none of the behind-the-scenes resistance that he had encountered in the past. In fact, his focus on the romantic aspect of the story was overtly encouraged. He recalls writing the Full Monty 20 years ago and the studio being extremely resistant to any hint of a gay subplot; a kiss between two men even had to be cut out of the script. "The studio was terrified of the whole idea of men kissing," he says. "You couldn't do it 20 years ago in a film, certainly not a film they hoped would be mainstream. Now that has completely changed. They were encouraging the love story because that's where the big emotions really lie; that's what they wanted to see more of." Beaufoy sees this as a sea change that has taken place in the past few years; even back in 2005, when Brokeback Mountain came out (and lost the Oscar to Crash), onscreen homosexuality was largely seen as taboo.
"I've got a 16-year-old daughter who is completely at home with any kind of gender and sexual fluidity and is open-mouthed that anyone wouldn't be," says Beaufoy. "The fight clearly isn't over, but it's so much more accepted as part of the mainstream, and it's so okay to talk about it. My daughter watches Battle of the Sexes and goes what, you had to be secret about this? And she finds that sort of hard to understand, which I think is fantastic. It's great that she thinks this is history and wasn't it weird? That's to be celebrated, even if there's a lot of other stuff that isn't."