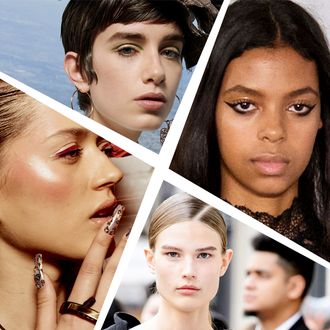 New York Fashion Week is over. With the exception of a few "see-now-buy-now" outliers, most of the looks floating down the runway won't be available until the spring. But that's fashion; beauty is a much different game.
If you want, you could try the hair and makeup looks from the spring 2018 shows as soon as tonight — especially since some of them are easy to achieve. Read on for five more beauty tricks from backstage that can blend seamlessly into your everyday life.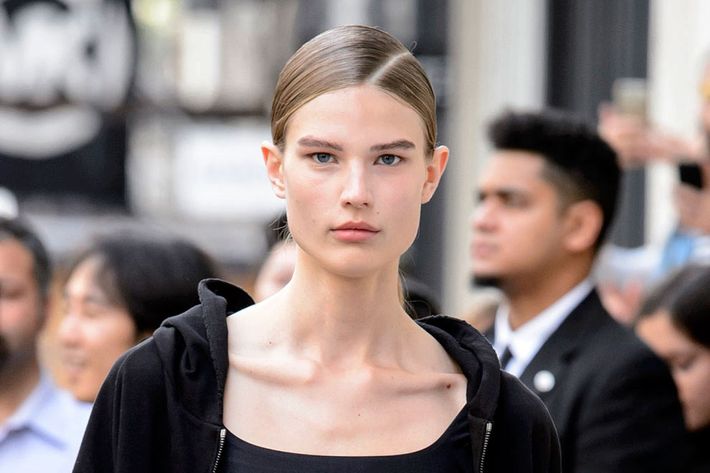 Seen at: Baja East
Why it's fun: Because it amplifies a basic ponytail.
You'll need: A rat-tail comb, an elastic hair tie, and wax.
How to make it yours: Hairstylist James Pecis drew a slanted part in each model's hair, beginning in the middle of the forehead. Once the part reached the head's crown, he pivoted the part nearly 90 degrees and extended it towards each model's right ear. Clipping the hair sectioned off on the right side, Pecis brushed the remaining hair into a low ponytail and secured it with an elastic hair tie. Next, he unclipped the sectioned-off hair on the right, connected it to the low ponytail, and smoothed the sides with a pinch of Oribe's Styling Wax. You can adapt this style for curly hair (it will look wispy and romantic), or for straight hair, make sure to flat iron the ponytail maximize the style's sense of modernity.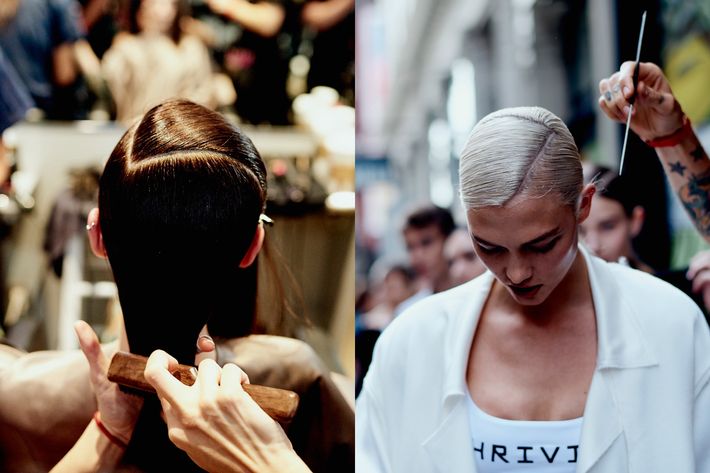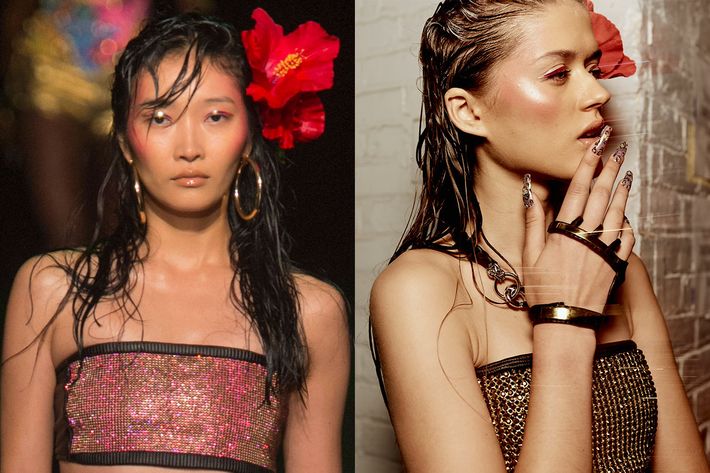 Seen at: The Blonds
Why it's fun: Because the matte lipstick trend has overstayed its welcome.
You'll need: A long-lasting lipstick and lipgloss.
How to make it yours: Begin with a richly-pigmented lipstick to give lips an allover dose of color. Kabuki, the lead makeup artist at The Blonds show, painted lips with M.A.C's long-lasting liquid lip color in Dash O' Spice. (The richer, red-undertoned Café Au Chic is a solid substitute for darker complexions.) Top off the lipstick with a dab of M.A.C's clear Lipglass for lips so shiny, they practically refract light.
3. Winged Under-Eye Liner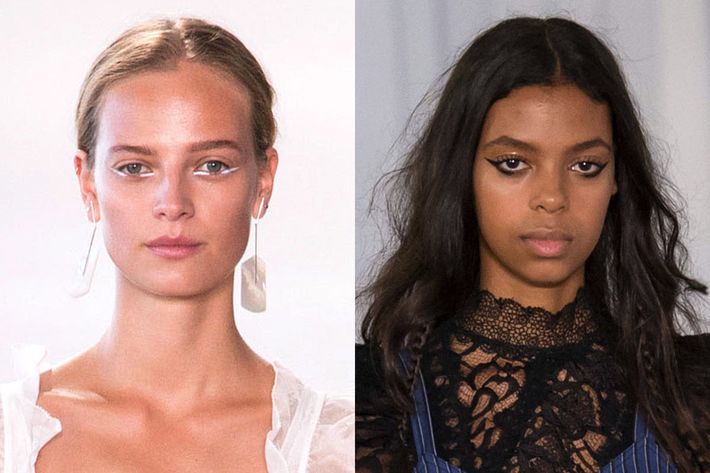 Seen at: Ulla Johnson and Jill Stuart.
Why it's fun: Because it's way easier than a traditional cat-eye.
You'll need: Eyeliner.
How to make it yours: Ulla Johnson and Jill Stuart presented two forms of under-eye liner. At the former, makeup artists traced a slim white line under each model's eye, beginning from the eye's inner corner. After leaving a gap in the line that measured the width of a finger, artists continued the line, drawing upward and extending it just beyond the eyelid's crease. Try Make Up For Ever's waterproof pencil liner for this job: it glides on skin smoothly, but won't smudge.
The liner at Jill Stuart followed a similar constitution, though it was a bit more dramatic. James Kaliardos and his team drew a thick black line underneath the eyes and flicked it up and out, to a sharp point. He then connected the winged flick to the upper outer corners of each model's eye. Any black kohl could achieve this look, but Bobbi Brown's smooth yet long-lasting formula makes the task especially easy.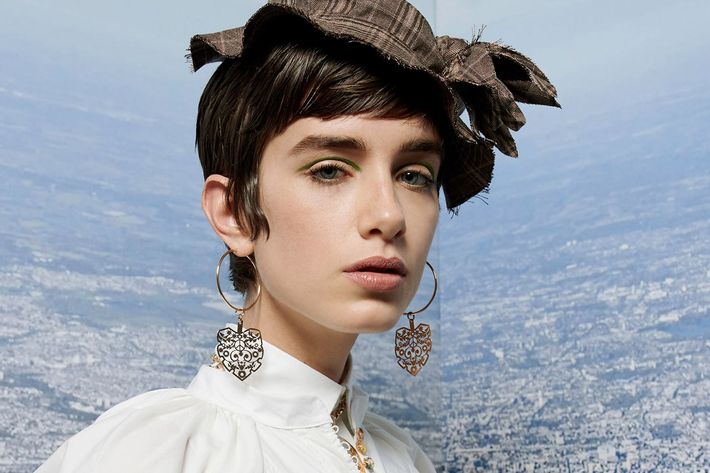 Seen at: Karen Walker
Why it's fun: It's a statement-making look that takes mere seconds.
You'll need: Pencil eyeliner.
How to make it yours: Grab any pencil eyeliner in a vibrant color. Following the arch of your eyelid's crease, trace the pencil slightly above. It's that easy. For oily eyelids, prep with a mattifying primer, like Too Faced's Shadow Insurance.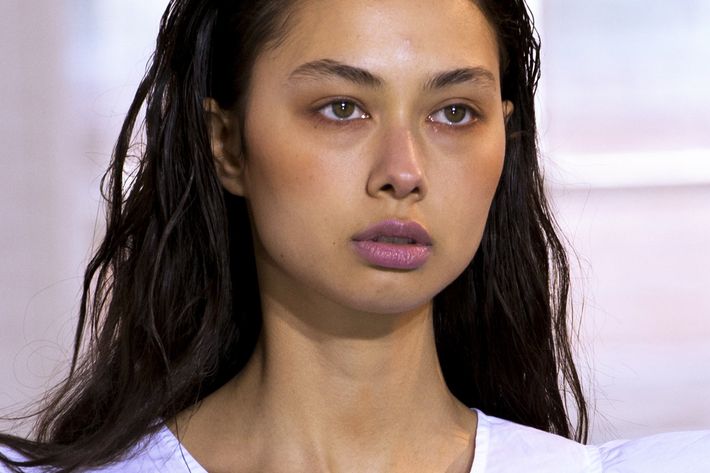 Seen at: Creatures of Comfort
Why it's fun: The soft, dreamy shade is unexpected but a pretty change of pace.
You'll need: Creamy lipstick.
How to make it yours: To make purple lipstick appear flattering (and not jarring), you'll need a creamy, slightly sheer formula. Inglot's Lip Paint in #59 is subtle form of lavender that's perfect for this job. Just paint one layer over lips to copy the look from the runway.
If you buy something through our links, New York may earn an affiliate commission.