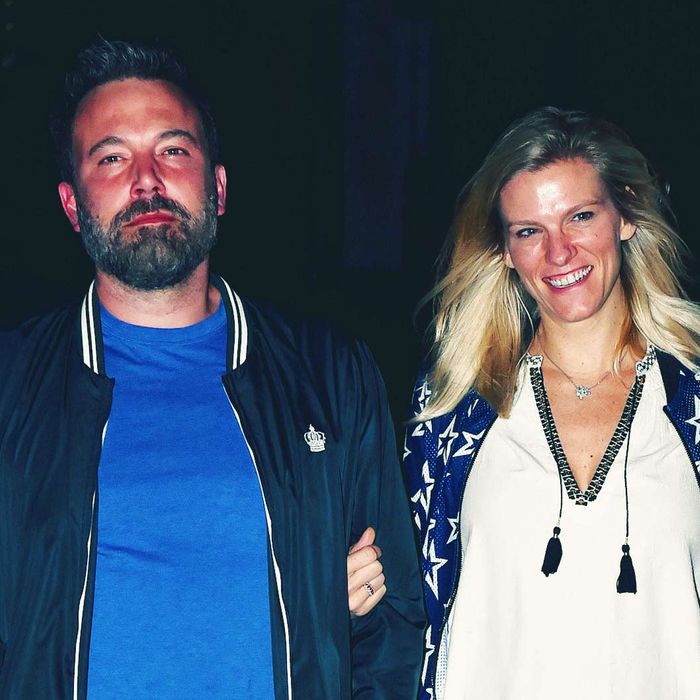 Ben Affleck and Lindsay Shookus leaving the U.S. Open.
Photo: Robert Kamau/GC Images
Iced-coffee fans Ben Affleck and Lindsay Shookus have officially carried their relationship into the fall: They were spotted on two dates this weekend in New York City. First, Affleck took Shookus to a romantic Saturday night showing of Stephen King's It. Based on the photos published by Us Weekly, they both wore bomber jackets and looked appropriately anguished when exiting the theater. Shookus "reached out to hold Affleck by the arm," People reports.
Then, on Sunday, Affleck and Shookus watched the men's finals at the U.S. Open. They both wore bomber jackets, again. This time, they coordinated with shades of blue (pictured above). According to the Daily Mail, Affleck and Shookus were seen "snuggling in, whispering, kissing each other and generally looking cozy." No outlet has published shots of them making out, but the Daily Mail does have one of Affleck putting his arm around Shookus.
Affleck and Shookus went public with their relationship in July, amid reports that they actually started dating four years ago, when Affleck was married to Jennifer Garner and Shookus was married to her SNL colleague Kevin Miller. Apparently unbothered by these revelations, Affleck and Shookus have since been spotted on dates in Los Angeles, New York, Las Vegas, London, and Maine.