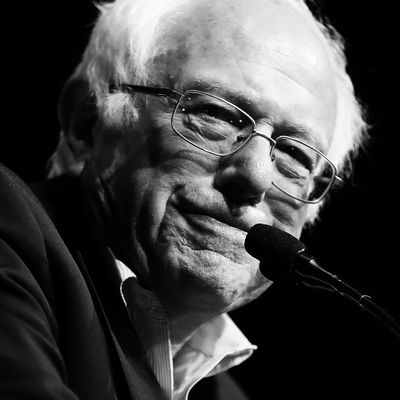 Bernie Sanders will introduce the bill on Wednesday.
Photo: Joe Raedle/Getty Images
On Wednesday, Senator Bernie Sanders introduced the Medicare for All Act, which would create a single-payer health-care system. Under the bill, which has been cosigned by 15 Senate Democrats (including virtually every Dem whose name is being thrown around to run in 2020), everything from mental health services to prescription drugs to vision care would be covered with no co-pay, as would the full range of women's health-care services — including abortion.
"This is where the country has got to go," Sanders said in an interview with the Washington Post. "Right now, if we want to move away from a dysfunctional, wasteful, bureaucratic system into a rational health-care system that guarantees coverage to everyone in a cost-effective way, the only way to do it is Medicare for All."
According to an op-ed Sanders wrote in the New York Times, the plan would roll out over four years, with Medicare coverage gradually expanding to cover younger and younger portions of the population, and more and more health-care services. By the fourth year, he wrote, "every man, woman and child in the country would be covered."
Pro-choice groups have enthusiastically endorsed the bill, which as Vox points out, puts repealing the Hyde Amendment "front and center." Ilyse Hogue, president of NARAL Pro-Choice America, released a statement calling it "a groundbreaking advancement for a simple truth: we will never solve our healthcare crisis until women have full access to reproductive services," and Destiny Lopez, co-director of All* Above All, said it "recognizes what people across the country already know: that health insurance plans should cover the full range of pregnancy-related care, including abortion." Meanwhile, Planned Parenthood's Vice President of Public Policy and Government Affairs said it was a "refreshing change to see a health care proposal coming out of Congress that explicitly takes women's health into consideration."
Interestingly, Sanders — who just a few months ago suggested that Democrats didn't necessarily have to be pro-choice, spurring a round of similar statements from Democratic leadership — hasn't discussed the topic of abortion as it applies to his bill. Instead, his op-eds and interviews have focused on cancer patients, the elderly, and the "average American," who "should not hesitate about going to the doctor because they do not have enough money."
In practice, the bill's benefits for women are kind of a moot point — Sanders himself has acknowledged that the legislation has no chance of passing a Republican-controlled congress. And even if it did, there's no realistic way to finance it. But perhaps it's a sign that Democrats aren't quite ready to abandon reproductive rights in the name of progressive politics.