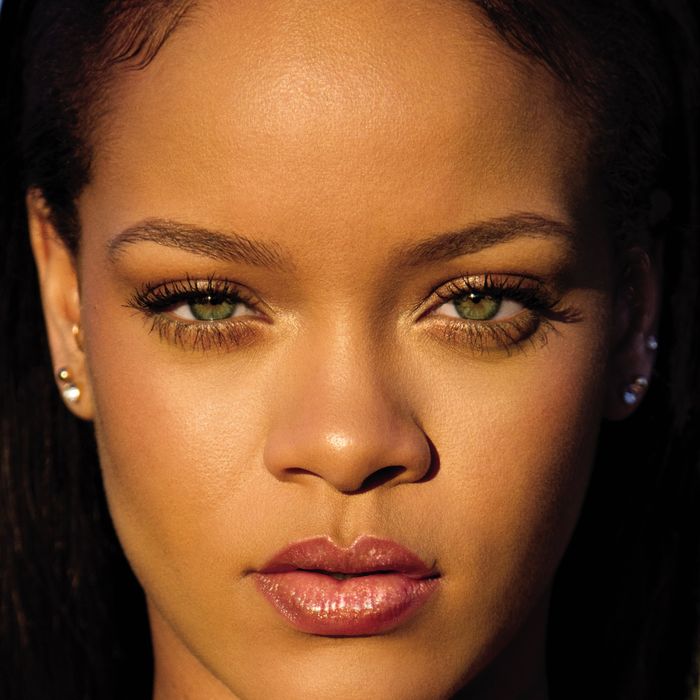 Rihanna.
Photo: Fenty Beauty
It's finally here! It's not an exaggeration to say that Rihanna's makeup line, Fenty Beauty, was the most anticipated beauty launch of 2017. The brand debuted live on FentyBeauty at midnight, and is now available to buy in-store at Sephora and online in 17 countries.
Sephora executives call Fenty Beauty the "most inclusive beauty brand in the world," and with 40 foundation shades, that might not by hyperbole. At the launch press event, Rihanna herself hugged her fans and ordered champagne at the bar, clad in a bright yellow Oscar de la Renta ballgown and knit. "Play around," she said, "it's just makeup, it's not serious, it won't bite."
The new line launches with mostly complexion options (color will come later.) Here's what you should add to your cart.
1. Invisimatte Blotting Paper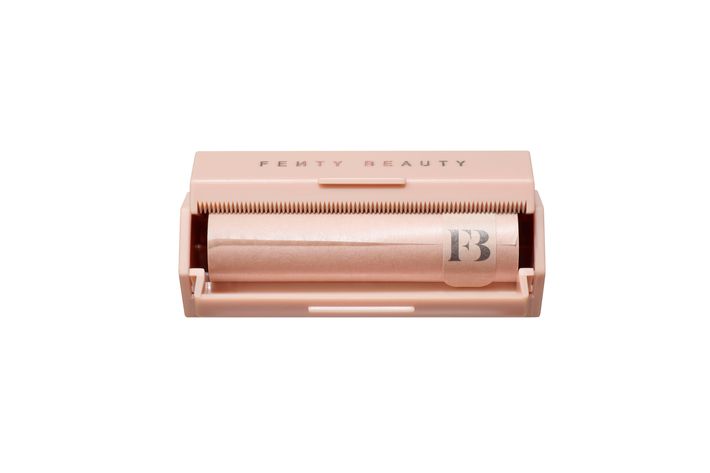 Blotting paper is sexy, said no one ever — till Rihanna got involved. "She really wanted to make it sexy," a makeup artist told me at the event. Packaged in a refillable roll-and-rip dusty-pink holder the size of a thumb drive, this is as seductive as oil removal gets. One hexagonal side of the holder has a mirror, so you can even see exactly how alluring you look when you're patting down your T-Zone.
2. Kilawatt Freestyle Highlighter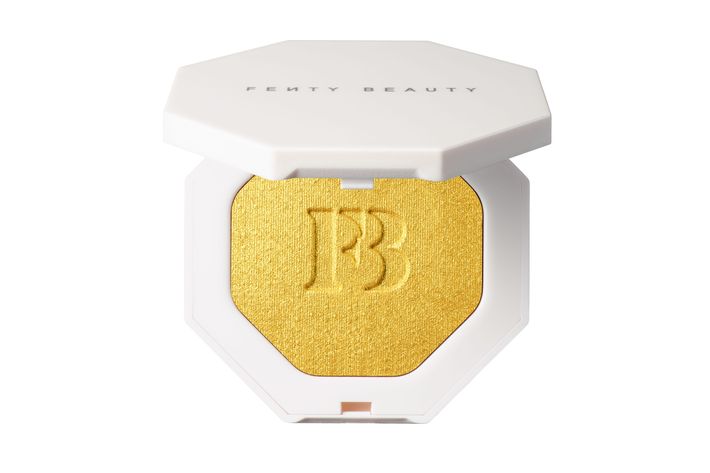 Many of the makeup artists I talked to at the launch were most impressed with the highlighter. It's velvety and soft, but not dusty, and the colors are unique. Trophy Wife, a 24-karat yellow gold shade that really pops on the skin, is the shade t buy. You can press it on as a highlighter or dust it loosely over your eyes for a pretty, glittery look. (It's what you see on Selena Forrest in the campaign video.) The highlighter also comes in duos, with day and night options.
3. Match Stix Shimmer Skinstick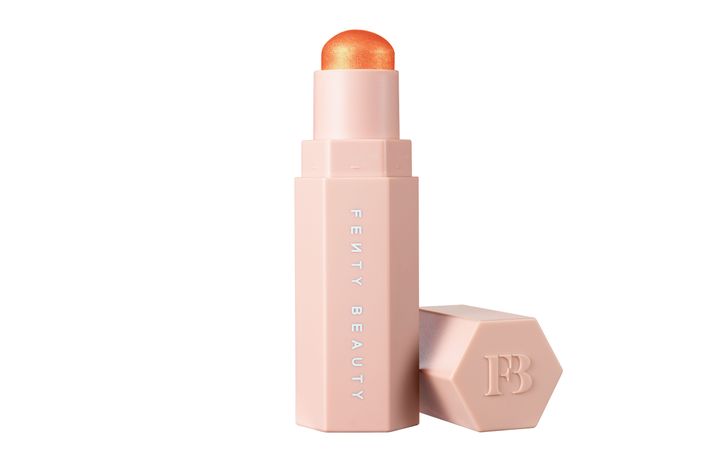 For a true glow-up, Rihanna knows that the secret is layering. This is a creamy highlight stick you can use under the Kilawatt to add dimension, pop, and longevity. The flattering shades contain a beautiful shimmer without any clunky glitter particles, and the options are particularly diverse. There's two varying shades of lavender called Confetti and Unicorn. Yacht Lyfe (also the name of a cocktail at the press event) is a NARS Orgasm-like dupe with less coral in it. And there are three or so orange shades called Ridiic and Chili Mango, which will look great on darker skin tones. The Stix are also all magnetic, making it that much fun to buy more than one.
4. Pro Filt'r Soft Matte Longwear Foundation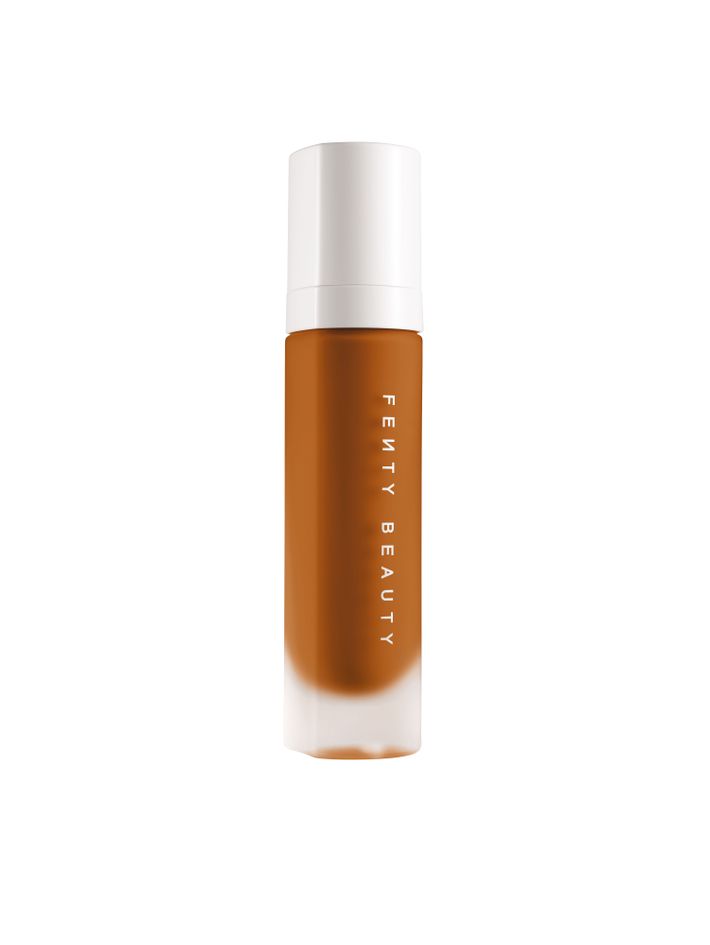 True to Rihanna's word, there are forty shades of foundation, and a good third of them are devoted to darker skin tones. The foundation offers nicely medium coverage, with a matte finish that makes your skin look touchable but flawless. It blends easily without much work and feels very light and moisturizing on the skin. Purportedly, it's also resistant to sweat and humidity.
5. Gloss Bomb Universe Lip Luminizer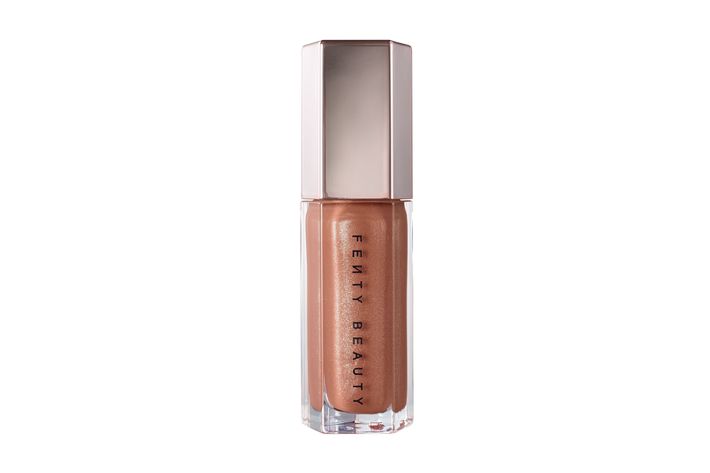 This sole real color cosmetic in the bunch, this pinky-brown shade looks good on everyone — or so Rihanna says. It definitely looked great on her, and on every editor and beauty influencer who tried it on. It's a little more brown than pink, meaning it's a slightly shimmery nude that actually looks good on different skin tones. The shea-butter enriched moisturizing formula gives your lips shine without making them look X-rated, and when I put it on, it lasted for the entire party, the car ride home, and beyond.
If you buy something through our links, New York may earn an affiliate commission.