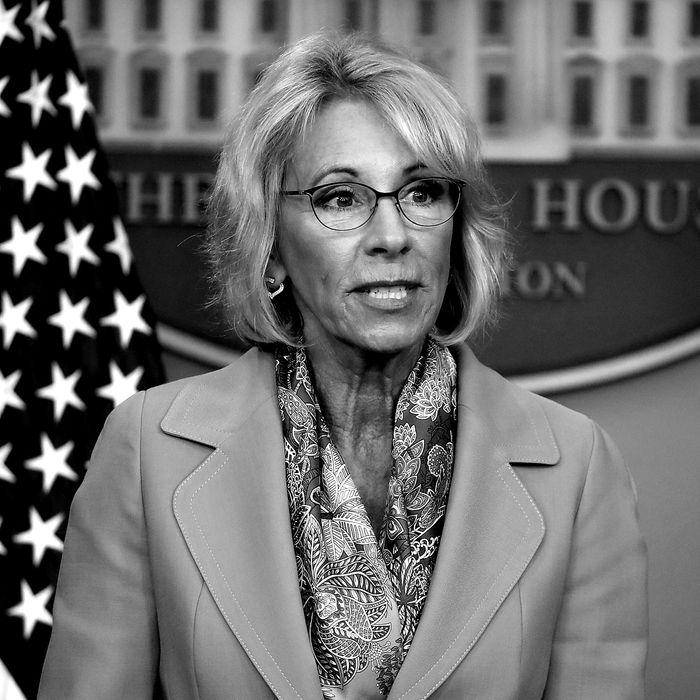 Betsy DeVos is poised to make a major announcement regarding Title IX.
Photo: Getty Images
The Trump administration's Department of Education doesn't exactly have a stellar track record when it comes to discussing campus sexual assault. The department reportedly reached out to men's rights groups to get their opinion on how Title IX, a law outlawing sex discrimination in organizations that receive federal funds, should be enforced, and one of its top officials implied that most instances of campus sexual assault are drunken hookups gone wrong (she later apologized for her remarks).
So it's likely that Secretary of Education Betsy DeVos's announcement on Title IX, which BuzzFeed News bills as "major," will be closely watched. DeVos will reportedly make the announcement on Thursday, during a speech at George Mason University's Antonin Scalia Law School. Officials have described the event as addressing a Title IX policy "centered around equal opportunity and equal protection for all," BuzzFeed reports.
"Insiders" say DeVos will finally detail how the Trump administration plans to enforce Title IX, which the Obama administration interpreted as applying in cases of sexual assault on campus. In its 2011 Dear Colleagues letter, the DOE laid out what steps a school should take if a student reports a sexual assault.
Advocates have said the letter is crucial for encouraging survivors to come forward, but critics say it rigs the system against those accused of sexual assault. In a July interview, DeVos spoke to the challenges of balancing survivors' rights with the rights of the accused.
"All their stories are important," she said. "No student should be the victim of sexual assault. No student should feel unsafe. No student should feel like there isn't a way to seek justice, and no student should feel that the scales are tipped against him or her. We need to get this right."