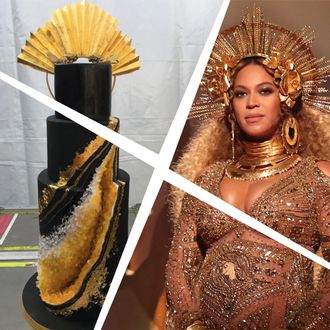 Cake, Bey.
Photo: Courtesy of Instagram/cakelifebakeshop; Getty Images
Beyoncé rang in her 36th birthday on Sunday (one day early) at the Made in America Festival in Philadelphia, where the audience serenaded her with both the traditional "Happy Birthday" song and the better Stevie Wonder version. But not only was Beyoncé appropriately treated like a birthday queen in the crowd — she apparently also had a royally expensive birthday cake waiting for her backstage.
As "Page Six" reports, the cake was made by Philly's own Cake Life Bake Shop, which makes geode cakes that "start at $3,500 and go up in price depending on the detail, complexity, and size." It took two days to make, and featured black and yellow accents, as well as a goddess crown on top that's reminiscent of the one Beyoncé wore during her Grammys performance in February.
Although the cake seems perfectly tailored to Bey, the bakers apparently did not know they were actually making a cake for her at first. Per "Page Six":
"Last week, a call came into Philadelphia's Cake Life Bake Shop requesting some cakes and cookies for New York clientele who were coming down for the Made In America festival over the weekend," the source told us. "The caller asked for various items and then specifically black-and-yellow-colored items, including a black and yellow geode-themed cake."
Eventually the bakers put two and two together — apparently, like the rest of us, they identify as "huge Beyoncé fans" — and dropped the cake off at the venue themselves, at which point Bey's team "escorted the cake and cookies to a private area behind the festival stage."