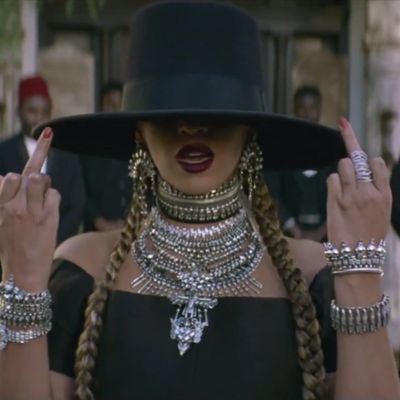 Last night, Jay-Z invited the crowd at his Philadelphia show to serenade Beyoncé in advance of her 36th birthday. Now, Beyoncé's friends and family have re-created one of the Queen's most popular looks from the music video for her song "Formation": oversize black hat, long braids, lots of jewels, and a shoulderless black top. The photos were shared by the Beylite Instagram account with the message #HappyBirthdayBeyonce.
The women who modeled the look include daughter Blue Ivy Carter, Beyoncé's mother Tina Knowles Lawson, former Destiny's Child stars Kelly Rowland and Michelle Williams, former First Lady Michelle Obama, tennis star Serena Williams, mother-in-law Gloria Carter, sister Bianca Lawson, and songwriter Angie Beyincé.
Happy Birthday, Beyoncé! Click through for the photos below.