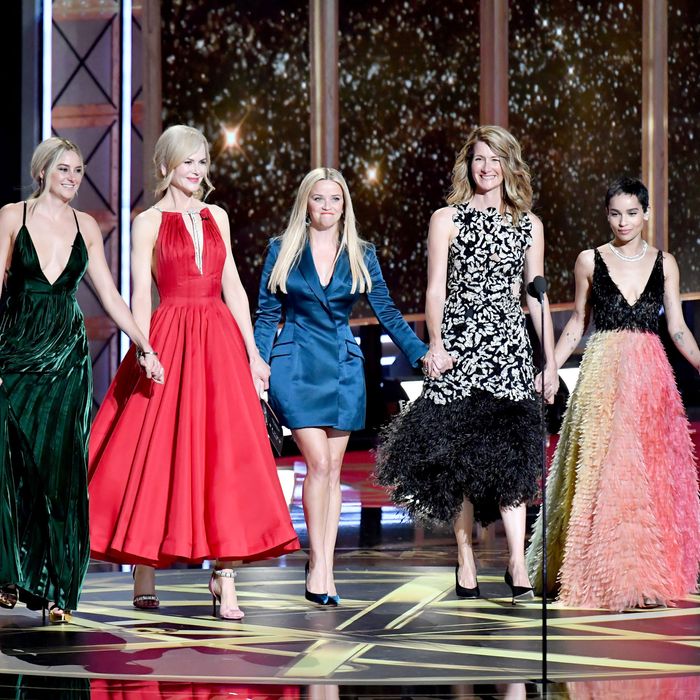 From left: Shailene Woodley, Nicole Kidman, Reese Witherspoon, Laura Dern, and Zoe Kravitz.
Photo: Jeff Kravitz/FilmMagic
At the risk of sounding like a cartoon animal from a children's television show, at the 2017 Emmys, friendship was the real winner. Old pals Lily Tomlin, Jane Fonda, and Dolly Parton held a gloriously nonsensical 9 to 5 reunion. Aziz Ansari ceded the mic entirely to BFF and co-writer Lena Waithe, who gave a landmark speech about LGBT representation (in addition to being the first black women to be nominated for and win a comedy writing award). Everyone kept calling Elisabeth Moss "Lizzy." But the award for the best friendship of all went, of course, to the women from Monterey, California.
Along with The Handmaid's Tale, Big Little Lies — a show celebrating female loyalty, working mothers, and multi-million-dollar beachfront real estate — was the clear winner of last night's ceremony, garnering awards for best limited series, best actress Nicole Kidman, best supporting actress Laura Dern, best supporting actor Alexander Skarsgård, and best director Jean-Marc Vallée, among others. In a ceremony punctuated by a very low low (namely, the pathetic Sean Spicer redemption tour) the BLL sweep was the high high that I needed to cheer my ailing heart.
The first time the women from Monterey assembled together onstage as presenters — Nicole Kidman in shimmery red Calvin Klein, Reese Witherspoon in an Elle Woods–esque power-suit dress, Zoë Kravitz like a feathered fairy in Dior Haute Couture — I felt my heart swell. It was how I imagine comic-book fans felt the first time the Avengers were all onscreen together. If this beautiful tableau was all we got for the evening, then dayenu, it would have been enough. But through the night, the Big Little Lies lovefest was the gift that kept on giving.
Alexander Skarsgård kissed his TV wife Nicole on the mouth (in front of Keith Urban!) and then thanked the gang "for making this boy feel like one of the girls." Laura Dern ditched her Renata power sweater for some power Proenza and gave a shout-out to her "incredible tribe of fierce women." She also gave a special thanks to Nicole and Reese's moms "for not only giving us extraordinary women but really well-read women, because that's how I'm getting parts." (Later, in a backstage interview, Dern said that the experience has inspired her to team up with HBO to develop more female-fronted shows). After we finally received our answer to that eternally polarizing best actress question — Reese or Nicole? — Nicole shared her award with Reese and co-producer Bruna Papandrea, before shouting out to her two little girls and speaking movingly about domestic violence awareness.
And then the award for best limited series brought the whole gang onstage together again. Type-A queen Reese — proving that real-life Reese is the Reese-iest Reese of all — took charge of the microphone. "It's been an incredible year for women in television, can I just say?" she gushed. "Bringing women to the front of their own stories and making them the hero of their own stories, and thank you for that opportunity and for audiences to wrap their arms around us." Nicole clutched her hand tightly, before stepping up to echo her co-producer's sentiments. "This is a friendship that then created opportunities," she said. "It created opportunities out of a frustration because we weren't getting offered great roles. So now, more great roles for women, please."
While the Emmys is always a back-patting, platitude-filled lovefest, with Big Little Lies — which Reese and Nicole optioned jointly through their production companies with an eye to creating better parts for women — the cast's mutual affection felt not just like another tweet-able Hollywood moment, but a powerful reminder that women working together behind the scenes is what enables essential moments of visibility onscreen. I'm a sucker for adorable celebrity friendships as much as anyone, and knowing that Laura Dern once taught Reese Witherspoon about Red Vines and brown lipstick, or that she helped get her BFF and Fault in Our Stars daughter Shailene Woodley onto the project, warms my heart. But when female friendship is also a sign of a history-making collaboration — when women team up to make things better for other women, and come to love and respect each other in the process — it proves "girl power" is more than just a feel-good meme, but also a potent and powerful antidote.