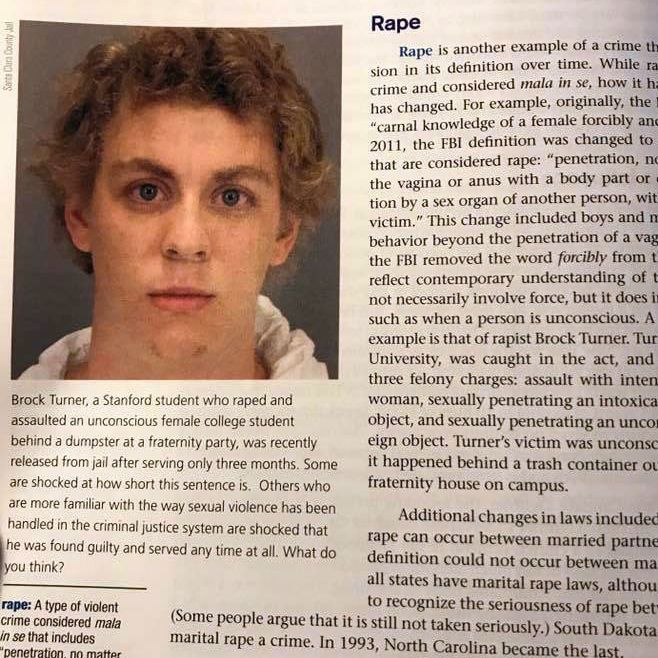 Last September, former Stanford University swimmer Brock Turner was released from prison after serving only three months for raping an unconscious woman behind a dumpster on the university's campus in January 2015. Now, his booking photo appears in a college textbook called Introduction to Criminal Justice, 2nd Ed. — under the section on rape.
As SFist reports (and Snopes confirms), Turner has now basically become the textbook definition of rape, thanks to University of Colorado, Denver professor Callie Marie Rennison, who included his photo in her textbook.
An image of a page from the textbook was first posted to Imgur by a user who wrote that their friend had come across it in a textbook for their Criminal Justice 101 class.
Some people purportedly were skeptical that the image was real, but Snopes tracked down two digital copies of the book and verified its existence. The caption under Turner's photograph in the book's "Rape" section reads:
Brock Turner, a Stanford student who raped and assaulted an unconscious female college student behind a dumpster at a fraternity party, was recently released from jail after serving only three months. Some are shocked at how short this sentence is. Others who are more familiar with the way sexual violence has been handled in the criminal justice system are shocked that he was found guilty and served any time at all. What do you think?
Hopefully studying Turner's offensively short sentence will help change how the criminal justice system handles rape cases.