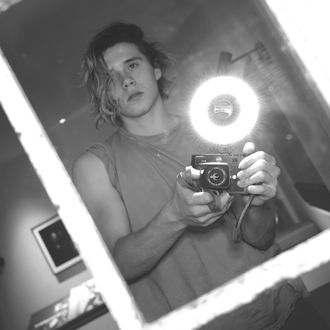 Brooklyn Beckham.
Photo: Brooklyn Beckham/Rizzoli USA
Brooklyn Beckham, 18, is exhausted. The eldest son of David and Victoria started his day at the gym, where he suffered a minor hand injury, and then he spent hours at school, learning the "boring, general, useless stuff" like "maths and English," and now he is here, slumped down in a black leather bean-bag chair on the private fourth floor of the Urban Outfitters in Williamsburg, preparing to sign copies of his first book, a collection of his photographs entitled What I See. He politely asks one of his handlers for a "plaster," and then he opens his palm to show me the damage: a glistening, pink, open wound the size of a nickel on his left palm. "It like, hurts," he says, bravely.
Brooklyn moved to New York in August, to begin his first year studying photography at Parsons. (Like a regular dad, David brought him to orientation.) His résumé is likely more robust than his classmates': At just 16, he shot a Burberry campaign, and he has since freelanced for Vogue and assisted the British fashion photographer Nick Knight. He has 10 million followers on Instagram, and he has already accumulated 12,000 more on a new account dedicated entirely to his photography (@_theenglishphotographer_). What I See, which contains photos of his travels, his family, and lots of selfies, hit shelves in the States last month. Based on the hundred or so teenage girls waiting downstairs to have Brooklyn sign their copies, it is a hit with its intended audience ("When I was doing it, I kind of wanted to reach a young teenager, like 13 through 24," Brooklyn says), though it has not, unfortunately, gotten rave reviews from adults. Earlier in the summer, critics at The Guardian and on Twitter noted that several of the photos in What I See are out of focus, prompting his U.K. publisher to respond in June, "What I See is a book for teenagers, by a teenager, which gives Brooklyn's fans broader insight into his world seen through his unique and creative perspective."
The book has brought him to his namesake borough, though he is still getting his bearings. "I don't really know any neighborhoods here," he admits.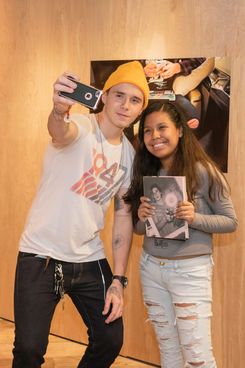 Brooklyn's popularity with his peers, and the fact that he has been famous since birth, is both a privilege and a bother. At Parsons, there are some starstruck freshmen. "I like people from school," he says, "but there are a few fangirls in the school … Sometimes, I have to be like, 'I'm going to be with you for like, four years, so chill.'" Brooklyn has a decidedly London accent, but he borrows some phrases and attitudes from California. At the end of the day, the girls are all right. "I mean, it's gotten better," he says. "They understand and they respect it, but it's just at the beginning, it's such a shock to them, so it's fine."
It's not that he'd prefer to socialize with celebrities. "I don't hang out with all those famous, annoying people," he explains. He went to Rihanna's Fenty Beauty party in Manhattan during Fashion Week, but he didn't even meet her. He got there late! Mostly, he just wants to focus on his craft. After he finishes his general-education requirements at Parsons ("all the boring stuff"), he'll study lighting and space. In the future, he hopes to assist Alasdair McLellan and shoot a campaign for Supreme.
So what do you think makes a good photograph? I ask.
He thinks for a moment. "It's just on the person, really," he decides. "It's not about cameras or anything. It's just, if you have a good eye, you do, if you don't … you learn." His favorite subjects: "random people on the street."
Brooklyn started his photography education at school in London, when he was 14. "My mom was like, 'Try it, if you don't like it, you don't have to do it,'" he explains. "And then I did it for a few months, and I just really enjoyed it. And then my dad bought me my first camera." In the introduction to What I See, he writes, wistfully, of the moment David presented him with the gift: "It was a Fujifilm. I remember it so clearly."
Brooklyn has a strong affection for his family that is obvious in his work and in conversation. When I ask about his tattoos, he pulls down the collar of his white T-shirt to show me his favorite: a small one on his chest that says "mama's boy" in typewriter font. What does your mom think of that? I ask. He grins. "She loves it."
David and Victoria were sad when he decided to pursue college in America, but "they know it's a big opportunity for me, so they're kind of all right with it," Brooklyn says. And he's an adult now, with a career and fans and a publicist, who suggests it's time for me to leave.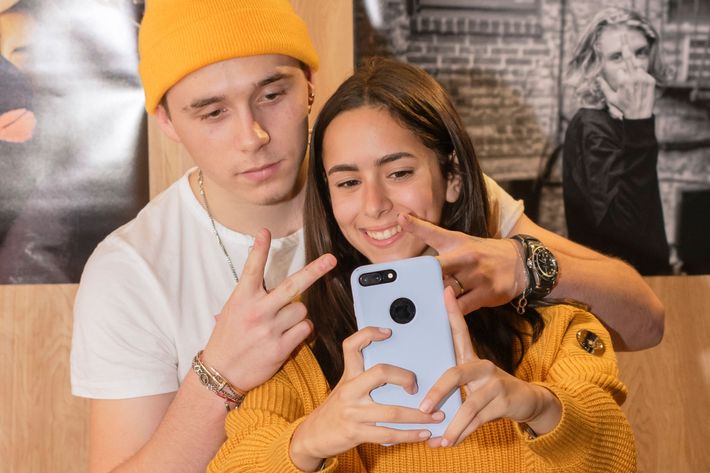 The actual signing, she explains, is supposed to be closed to the press. I sneak downstairs and set up camp behind a mannequin, so I can watch the moment the teens, who have formed a line that snakes through a pastel panty display (5 for $25!), see Brooklyn for the first time. He hops down the stairs about a half an hour later, adjusts his mustard-yellow beanie, and parks himself behind a table on a raised platform. The lucky first fan, a petite brunette who looks to be about 13, approaches, and Brooklyn stands to take a selfie with her. "Awww," sigh the rest.