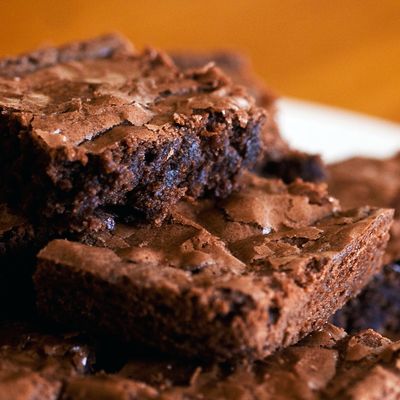 Photo: Brian T. Evans/Getty Images
Two years ago, below a New York Times recipe for Katharine Hepburn's brownies, a woman named Sydne Newberry left what is perhaps the greatest recipe comment of all time, in a genre known for excellence.
In merely 74 words she introduces us to tension, to intrigue, and to a plot twist so stark and shocking it has haunted those who read it long after they closed their browser window:
"This has been my go-to brownie recipe for 30 years. In the '80s, an acquaintance in Germany to whom I brought some of the brownies, and who considered herself a great cook, asked for the recipe but was never able to get it to work. She kept asking me what she was doing wrong and I was never able to solve her problem. Eventually, she moved to the U.S. and stole my husband!"
Newberry's comment is considered the Times' moderating team's "all-time favorite" and has made the rounds on Twitter several times. After its latest brush with virality, the Cut reached out to Newberry for the backstory. She's a nutritionist, evidence reviewer, and research communications analyst based in Los Angeles who reviews medical literature and writes reports for federal agencies.
Here's her version of the events behind The Brownie Comment.
She wrote that she first met the acquaintance when her then-husband of eight years was on temporary duty for the Air Force in Germany (their husbands at the time knew each other). Newberry brought them the brownies and after the acquaintance — described as "a gorgeous Italian woman who was very proud of her cooking and was a real food snob" — asked her for the recipe, they went back and forth in the mail trying to get it to work. When it didn't take, "she insinuated that I'd purposely left something out of the recipe."
Three years later, Newberry continued, the acquaintance visited and said that she and her husband had broken up.
"A couple weeks into the visit, I ran into a neighbor who lived behind the construction site [Ed. Note: Newberry said that her then-husband was building a second house on their property at the time], who asked me if it bothered me that my husband and the woman were fooling around! I didn't actually believe the neighbor until a week or so later, I came home and caught the two of them. The woman hightailed it back to Germany, I went to stay with a friend and gave my husband an ultimatum," she shared. "He said he wanted to stay married to me, but then he immediately headed back to Germany for another 'business' trip! I took the opportunity of his absence to move out. A few months later, she was back but I never spoke another word to her."
But the next chapter of Newberry's life was a happy one: she moved to D.C. and married her current husband, whom she calls the love of her life. And what's his relationship to the brownies? "Ironically, he didn't taste the brownies for years, because he'd always been allergic to eggs. He finally discovered he'd outgrown the egg allergy when he decided to go to culinary school! He loves the brownies!" Reader: he loves the brownies!
As for the other woman's brownies? "Even after going to baking school, I never figured out what went wrong with the woman's brownies and I sure never cared to ask her," Newberry concluded. "Although I've modified the recipe a tiny bit recently … I still love it and think of it as Katharine Hepburn's brownie recipe. And I can't think of it without thinking of that little twist of irony."