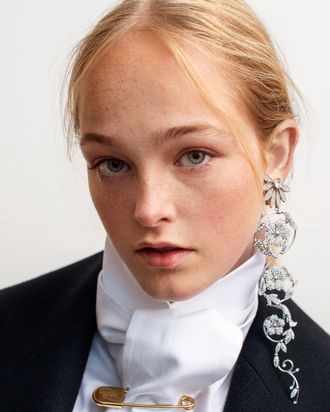 Burberry's Spring 2018 runway makeup.
Photo: Courtesy of Burberry.
Last season, Burberry's artistic makeup consultant, Wendy Rowe, showed us all how to contour, albeit in the British brand's muted way. This time around, she decided to take the skin in a completely different direction. "We've moved away from the glow because everyone copied us!" Rowe explained with a laugh backstage. How does that translate? The look went from using highlights and contour to a modern take on the matte face. After prepping the skin by cleansing, toning, and using a bit of moisturizer, Rowe added a lotion to mattify skin. She then used the brand's Cashmere Concealer and tapped it over any red areas to diffuse any imperfections. She then followed it up by applying the Cashmere Compact as if it were a bronzer to reduce shine.
But it's really the eyes where Rowe took a counterintuitive approach. Instead of hiding dark circles, she took the Face Contour and Lip Contour to amplify where one would have natural coloring. It added in pink, purple, and taupe tones to the under-eyes; although, if a model already had the tones naturally, Rowe left the under-eyes as-is. Then, she gave a quick brush of the brows, and skipped both mascara and lipstick before sending each girl on her way. "We're blurring the imperfections. We all have them and that's okay!" Rowe said happily. So the next time you feel like watching a ten-minute YouTube makeup tutorial on how to cover and contour your face, maybe just say screw it and embrace the Burberry route. You can't get any easier than that.