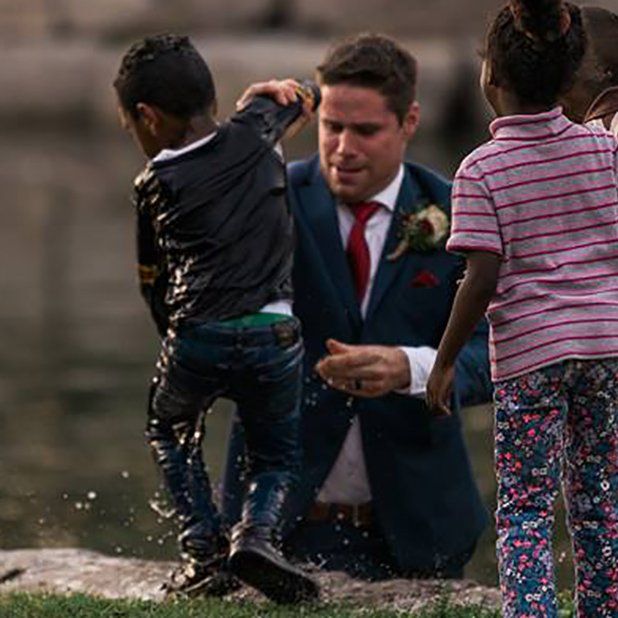 Clayton Cook saved a boy on his wedding day.
Photo: Courtesy of Twitter/CTVNews
On Friday evening, a groom in Canada jumped into a pond during his wedding to save a young boy who had fallen into the water.
Photographer Darren Hatt was taking portraits of a bride at Victoria Park in Kitchener, Ontario, when she suddenly called out to her new husband after seeing the boy in distress. Clad in his three-piece suit, the groom — Clayton Cook — immediately jumped into the water to save the boy.
"The kid was under water on his back. He ingested water and there was mucous coming out of his nose," Hatt told CTV. "It was scary. (The boy) was struggling. It could have gone unnoticed."
Images of the dramatic rescue have since gone viral, with Hatt sharing the pictures on Facebook alongside the caption, "Well done sir." According to Canada's London Free Press, the little boy (who was not a guest of the wedding) was fine after the ordeal and even hung out around the wedding party for a bit before returning to his family with his sister. Meanwhile, Cook had to go back to his wedding reception soaking wet.
Per the Free Press, the bride, Brittany Ross Cook, later wrote on social media, "Thank you all for your kind words for my husband, we only hope this kid is OK and that this is a lesson to all about keeping your kids safe, especially around water."