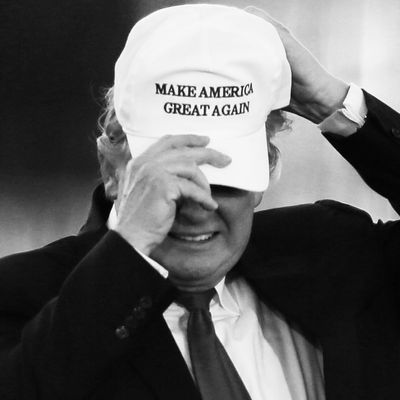 Donald Trump in a MAGA hat.
Photo: Joe Raedle/Getty Images
In November, the day after Donald Trump won the U.S. presidential election, Canadian judge Bernd Zabel showed up in court wearing a "Make America Great Again" hat. On Tuesday, the Ontario Judicial Council announced that the justice would be suspended for 30 days without pay for his "breach of the standards of judicial conduct," CBC reports.
The council received 81 complaints about Zabel's conduct after he wore the hat in his Hamilton, Ontario, court on November 9 — most of which argued that his conduct "represented an unacceptable expression of partisan political views by a judge." According to CBC, Zabel argued in front of a disciplinary panel last month that he wasn't trying to support Trump by wearing the hat with the now-president's campaign slogan — instead, he countered, he was trying to make people laugh.
In its decision, the council stated that many people who complained indicated "a heightened concern" that Zabel had associated himself with Trump's views, which they perceived to be "misogynistic, racist, homophobic, and anti-Muslim." The complainants also believed that "women and members of various vulnerable groups would reasonably fear that they would not be treated fairly and impartially by Justice Zabel."
The decision goes on to discuss the "highly partisan and bitter" 2016 election campaign in the U.S., and the fact that "many Canadians" found Trump's views on women, minorities, and other groups to be "highly offensive." The council wrote, "For a judge to appear to endorse Trump's views would be perceived by the public to be an expression of opinion on issues of profound importance to Canadians."
The CBC notes that the suspension is the most serious sanction the council can impose on a judge — aside from dismissing him from the bench. The justice hasn't been hearing cases since December, and during the August disciplinary hearing, he told the council, "The man depicted in those complaints is not me. I'm not a racist, I'm not a bigot, I'm not a misogynist."